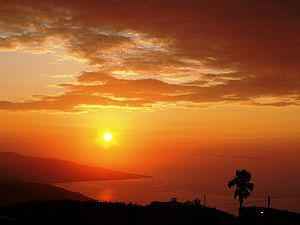 Sunrise over the south beach of Jamaica. (Photo credit: Wikipedia)
Wisdom is the theme this week –
It's an interesting word – wisdom – and the goal this week will be to determine what it means to you – how you can gain wisdom or even it it's something you want to pursue.
It our current society you don't hear much about wisdom and yet as I sought additional quotes about it I began to understand that without wisdom life is a repeatable series of experiences.
How do you want to live?
For me it's become apparent that I want to get the deepest richest and most breathtaking feelings from my life journey – I want to live and get From life – not simply get Through life.
Charles Caleb Colton said, "There is this difference between happiness and wisdom, that he that thinks himself the happiest man, really is so; but he that thinks himself the wisest, is generally the greatest fool."
I liked this one because as I seek wisdom I am continually reminded that I am not so wise, or that I have a continual path to follow on it – my dad used to say to me, "The more I know the more I realize how much I don't know." It's like that for me with wisdom.
This will be a wonderful week!
You Create Your Day by the way You Think! Be Present!
Go make it a Magnificent Day!
Blessings, Shawna