My favorite time of year is getting so close now, I much prefer the colder weather as opposed to the steaming sunshine of the Summer, don't get me wrong, I love the sunshine but there's just something about wrapping up all snuggly and warm during the Autumn and winter months that makes me all cosy inside! I'm not one to really wear dresses or summery clothes (must be the tomboy in me), so covering up always makes me feel more comfortable!
I was recently introduced to the website Woolovers who are a specialist knitwear retailer and who are now celebrating 25 years of excellence to over 750,000 customers! They provide you with everything 
from Christmas themes and patterns to fluffy and chunky cardigans! Something to suit everyone in a range of budgets too! Although in my honest opinion, if you want a good quality jumper thats going to last you at least a few years, you may need to spend a little more!
So after browsing the website, I wanted to share with you all my 4 favorite items, no doubt you are thinking or have already started swapping out the summer clothes for snuggly scarfs, cosy knits and those UGG boots!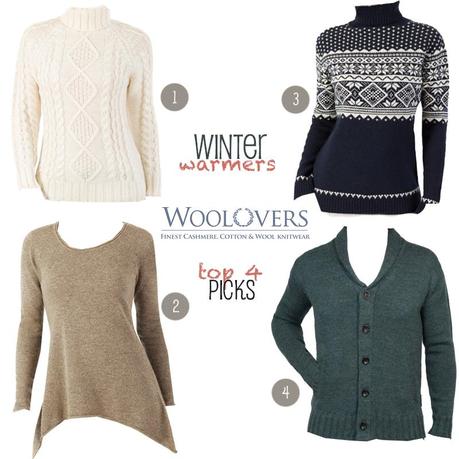 ONE
My first choice is the gorgeous Aran Polo Neck Jumper in Cream! I have fallen in love with this jumper so much I will be adding it to my wish list for Christmas! It is made from 100% British wool and comes in 4 other colours; Charcoal, Flannel, French Navy & Red! With raglan sleeves, you are guaranteed that cosiness feeling without the bulkiness around the arm! What's better is this is also a unisex jumper and currently on offer, if you buy 2, you can save yourself £8! 
TWO
For a bit of layering I chose this simple but flattering Asymmetric top in Pepper! Knitted in fine 12 gauge Cashmere & Merino blend, this exciting new design is not only cosy, comfortable and easy to wear but it will also turn heads for all of the right reasons, thanks to its modern styling. With a figure hugging shape on top and flowing back, this will be sure to be a staple piece in your wardrobe across the seasons and available in 9 other colours too!


THREE

Everyone needs a Christmassy jumper, it's a staple piece we all loathe to love! So whether you go for the Mr Darcy type from Bridget Jones' Diary, or fancy a more fashionable take, there are so so many on the market nowadays you're guaranteed to find something perfect for you! I chose this 

Fairisle Polo Neck Jumper from the website because not only is it perfect for both Men & Women, but it's stylish, soft and a classic piece that also comes in a few others colours too! 


'The two color pattern, cosy polo neck, long sleeve & easy fit make this a highly desirable wear for the colder months. This unisex style is very contemporary but with a traditional feel'


FOUR




I decided to pick out something a little more masculine this time, I think we've all been there where we've thrown on our partners hoodies or jumpers and they're always so snuggly, cosy and best of all, oversized! This gorgeous shawl collar cardigan is actually another unisex piece that comes in a variety of different colours, secured with gorgeous chunky buttons, with long sleeves, patch pockets and a horn button detail, all made with 100% British wool!




What are your staple pieces this season?

x