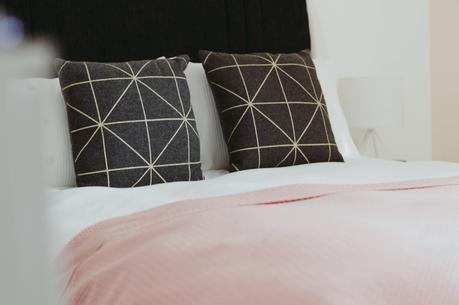 As i've got older, i've become increasingly over excited by the concept of ordering new bedding, and the older I get, the more I look forward to getting into bed each night and just going to bloody sleep! But we all know that wonderful feeling of clean fresh bedding, the pure excitement of making up the bed ready for that night, the scent of the washing powder, we've probably lit a few candles, popped on the fairy lights and purposely tidied the room to within an inch of its life, we then share a photo on Instagram and share with our followers about how the bedding is clean, to be met with like minded individuals who share the same strange feeling of joy.
We all remember being nagged to clean our rooms and make our beds, it seemed like such a chore back then, but now I see it as a challenge to see just how crease free and cosy I can make the actual bed, how many cushions I can add without it looking over the top then once it's all finished, consider a new job in home interiors, and hopefully all those years of playing The Sims as a teenager will finally pay off! There's actually a great scene in Along Came Polly about decorative cushions, I urge you to watch it, it's relatable, and yet I still add a shed ton of them to my bed anyway!
Anyway, onto the actual review, I received these gorgeous bits from JD Williams a few weeks ago, I've always known of their clothing but never even knew they had a whole homeware range, which has very quickly become my new favorite online store, i'm eyeing up their bobble bath mats at the moment because i'm in desperate need of some new ones!
The first item I chose for the bedroom was this beautiful waffle duvet set, I like to keep my bedding simple and white just seems to brighten up the entire room, I will admit to have ironed this before putting it on, I mean the OCD kicked in because it was for this review specifically but also, it looks SO much nicer all smooth and crease free, ahhh.
I washed and tumbled dried the set before making the bed and it all came out beautifully, and I loved how it felt, you know there are some duvet covers and pillowcases that just feel a bit thin, a bit meh, this is such high quality, the waffle detailing instantly adds that little touch of luxury that you'd find with one of those posh spa robes, and the adorable little buttons details give it an almost nautical feel, I couldn't be happier with it!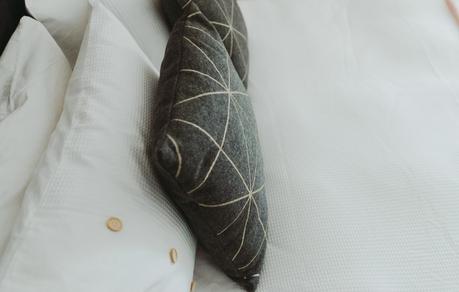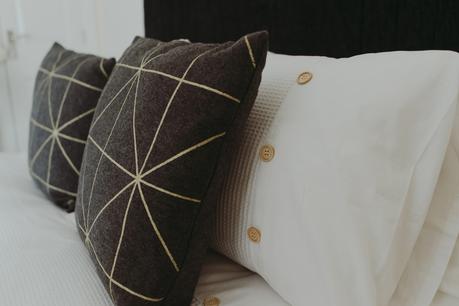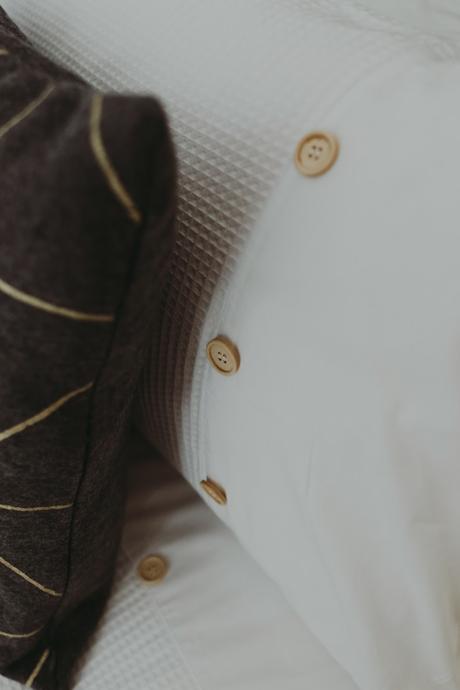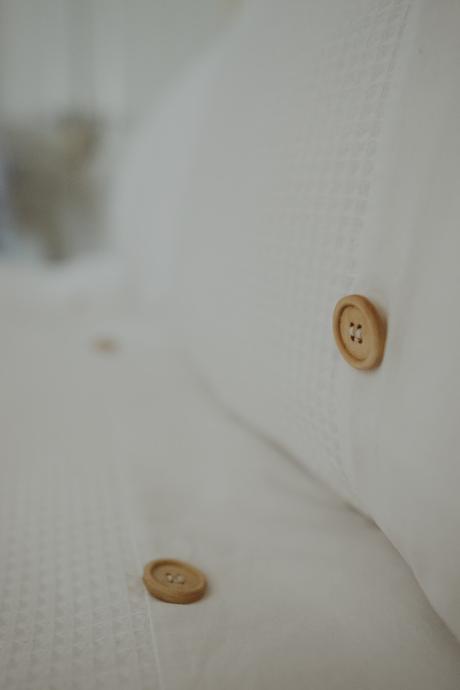 I paired it with this beautiful dusty pink throw for the end of the bed which has quickly been stolen by Abbie when she's been poorly the past week or so, it's the perfect addition throughout the year and nice and cool and cosy to go over you as the weather heats up (it's going to isn't it?). It measures 150x200cm and fit perfectly on the king sized bed, it also comes in Cream, Duck Egg & Grey, and has matching cushions available too!
What's the point in ordering new bedding without also ordering some more decorative cushions? I went for these felt & gold ones to compliment the rest of the room, I'm a sucker for anything gold at the moment, I have some photoshoots coming up and they all have elements of it! These just add that little modern finish with a geometric touch, they are exactly how you want a cushion to be, cosy, soft & super comfy! OH and they currently have a 3 for 2 offer on their cushions too!
I'm so impressed with all three of these products, the quality is so beautiful and luxurious, instantly the bedroom looked ready for Spring with just a few simple changes, I couldn't be any happier! And now i'm about to be that person I spoke about at the top of this post (minus the tea lights because i'm actually going to fall straight to sleep as soon as my head hits that pillow!). Hope you all have a great nights sleep and I will be back next week for a new post! Sweet dreams. x