Another day, another confession. Yes, Girl on the River has been playing away again. This time it was skiing (and the breathtakingly beautiful Canadian Rockies) that stole my heart away from the river (you can read all about it here). I didn't forget about you all though, while I was skiing and nursing my ankle (almost mended). While I was sampling the sub-zero temperatures of the mountains, skiing and bootcamping and snow-shoeing, I had ample opportunity to road-test some winter socks and can report that I have definitely found some of the best out there. Without further ado, this is what I found for you.
Best for comfort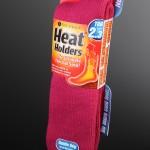 Oh my.
Heat Holders
claim to be the warmest thermal socks in the world. I can't say for sure if they're right, but they can probably claim to be the cosiest. These socks have the softest interiors you can imagine. Think fairy gossamer, velvet cloud-fluff, angel's breath. You getting the idea? They are deliciously, wonderfully, stunningly soft. If you haven't tried them, trust me, you should.
But what about for rowing? Well, interestingly, they were Father Christmas's sock du jour at the recent Monmouth RC Ladies Squad Secret Sock Santa. Around a third of us were delighted to find that Santa had given us a pair (mine, thrillingly, were a pair of these hot pink babies, so thank you, Santa). They have the clear endorsement of our ladies' squad and I'm expecting to see lots of uber-cosy rowers at this year's Boxing Day meet.
I'll even go so far as to say that they're… shhhh… better than Uggs when it comes to comfort, and that's saying something.
RRP £7.99 (£5.99 for children's socks) from various high street retailers as well as through www.heatholders.com Twitter: @HeatHolderSocks
Best for wearing with trainers

Even rowers aren't outside all of the time, and we need good socks for wearing under trainers, too. Getting to and from the gym can be chilly, though, and Raynauds sufferers like me need to keep our tootsies warm. All is not lost, though. Allow me to introduce
Incredisocks
.
I absolutely love these. I road tested them at a killer bootcamp session in snowy Banff and have worn them as much as I can ever since.
There's some slightly mind-boggling science attached to them involving negatively charged atoms, carbonized charcoal technology, therapeutic anions and suchlike, which all boils down to the idea that they increase the circulation in your feet (excellent news for the Raynauds-afflicted like me). They are supposed to keep you cool in warm weather and warm in cold weather.
I'm fairly sceptical about this kind of claim, but I have to say I am a bit of a convert. My feet were beautifully toasty on the shivery walk in the snow to the session, but didn't get horribly hot and sweaty despite our Crossfit instructor's best efforts. My face may have been puce (oh shucks, I haven't room for the photos) but my feet were fabulous. As to their claims to be odour absorbing… actually, I think they're right.
Available at www.incrediweardirect.co.uk RRP £12.95
Best for warmth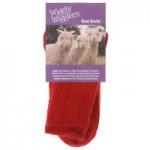 What initially attracted me to Wiggly Wigglers' Goat Socks (and I admit this isn't cool) was the fact that they are machine washable and will survive a turn in the tumble drier. What I hadn't bargained on, though, was how warm they really are.

I tested these with the toughest call you can ask of a pair of socks: time-keeping at the Winter Head. A whole day standing outside, stock-still apart from the click of the stopwatch. By the end of the final division, I noticed something quite startling. I was shivering all right, but only from head to mid-calf. Whereas I could barely feel my fingers, my feet were astonishingly warm, thanks to my lovely goat socks, which are made of mohair from a pedigree herd of Angora goats.

I'm a bit of a wool-wimp and found these a little on the itchy side, so wore some cotton socks underneath, but apart from that found them blissfully warm and comfortable. I have since worn them regularly under my walking boots and won't hesitate to wear them in the boat, too.

Available from www.wigglywigglers.co.uk in a variety of shapes and sizes, from £12.25

Best for rain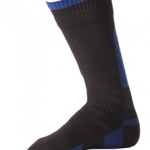 We seem to have spent most of this year under water, and as I write the river levels are rising once more, so what we need more than anything else is waterproof kit. And as any fule kno, they don't come more waterproof than
Sealskinz.
I've been angling for a pair of these for ages, and finally have some in my possession.
Ahhh, and they were totally worth the wait. They really are properly waterproof – they feel a little odd from the outside because of this, but quite normal inside – and are the only socks I'll be wearing for coxing from now on (if it's not the rain it's the splashing, you understand). I asked for the thick ones for extra warmth, and was glad of the layer of Merino wool – it's jolly cold out there, I can tell you.
I should say that they do come up rather small. I'm a size 5, and the 3-5 is quite a bit on the snug side, so if in doubt, I'd suggest you size up.
£34.95, available from www.sealskinz.com (also from lovely Di at Rock the Boat)
So whatever you hear me moaning about this winter, it won't be cold or wet feet. I'm all kitted out with sock fabulousness and I suggest you do the same (Santa's very amenable, too).
Merry Christmas!