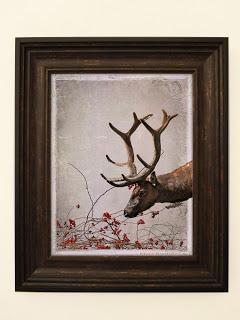 This picture of an elk was photographed in Rocky Mountain National Park in a brilliant green summer alpine meadow. I did not like the bright green background and decided to make the photo into something a little bit different using digital art techniques. I thought he would look so handsome on an  antique tapestry hanging in a medieval castle and was inspired by that thought. There is even an old English legend that fits about a "Winter King" haunting Windsor Forest during the cold winter months. He is a ghost called Herne the Hunter and was reportedly seen at midnight with antlers on his head. The earliest written account of this legend was in 1597 by none other than William Shakespeare.
Sometime a keeper here in Windsor Forest,
Doth all the winter-time, at still midnight,
Walk round about an oak, with great ragg'd horns;
And there he blasts the tree, and takes the cattle,
And makes milch-kine yield blood, and shakes a chain
In a most hideous and dreadful manner.
You have heard of such a spirit, and well you know
The superstitious idle-headed eld
Receiv'd, and did deliver to our age,
This tale of Herne the Hunter for a truth.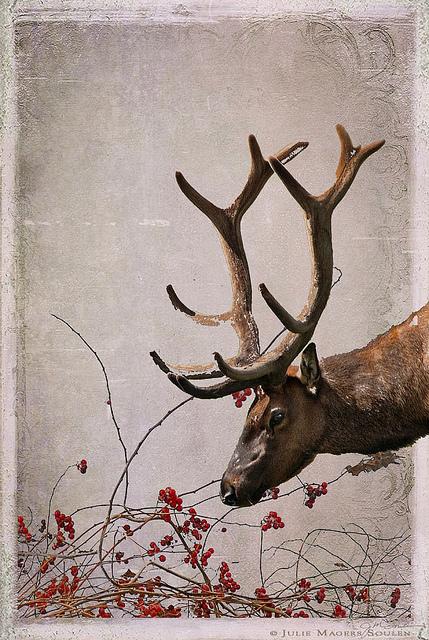 Winter King

Winter king photo, is a digitally created image of an elk leaning over festive red berry branches in an antique vintage style print. The perfect way to add an "old world" woodland style to your home, office, or bedroom decor.  Rocky Mountain National Park Elk, Colorado, USA Texture courtesy of Pixel Dust Photo Art