Last spring we did an overnight trip up to Estes Park, Colorado. On our way home down the Big Thompson Canyon we encountered a group of bachelor Rocky Mountain Bighorn Sheep rams. This particular fellow was a stand out from his band of brothers and inspired me to give him a "canvas" of his own. I removed him from the original photograph and gave him a background inspired by the spirit of earth in hues of granite, sandstone and quartz. I hope you like my artistic approach to photography and enjoy sharing it!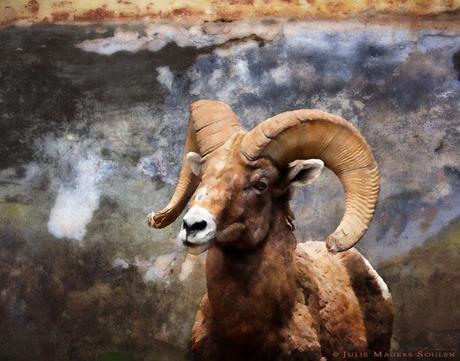 BIGHORN EARTH
Big Thompson Canyon, near Estes Park, Colorado, USA
Printed in the USA - ©Julie Magers Soulen
CLICK FOR UNMOUNTED PRINT PRICING
CLICK FOR CANVAS, FRAMED, ACRYLIC, OR METAL PRINTS
jfids7590fjg936bjp0459uu89U7NJ9747hjmdfur894hgiophPY3756J8548567UHUY6Ii8v&$$#kngi84ygfrthihg746gniorthj9rtuh
As always, I appreciate you sharing your thoughts in my comments here or on my Facebook Page and Twitter Feed.