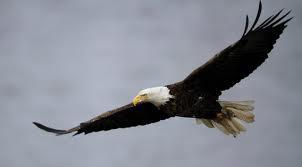 Full disclosure: The Pocono Mountains of Northeastern Pennsylvania use the word "mountains" loosely.

With a peak elevation of 2,693 feet (Elk Hill's North Knob), let's face it, the Poconos are mere hills. But they are pretty hills, covered in evergreens and laced with lakes, rivers and streams. Home to hundreds of owls and bald eagles. From what I've been told, you can trust eagles. Anyplace to which they migrate is a fine place indeed.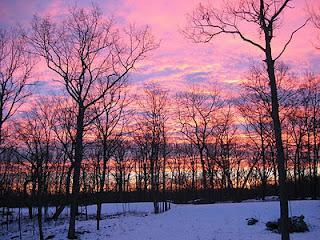 While I could craft this post about how much I miss the Sierra Nevadas and Himalayas. Or how I wish I'd wound up in the Rockies instead of the Poconos, I'm choosing to focus on the positive (New Year's resolution). The quaint towns of the Poconos, home to stores with names such as Country Junction,Woehrle's Bait Shop and Tannery Depot General Store, are just the sort of places I seek out when I travel. That delicate balance of stuff to do and people with which to do it, but not too many people.
Here are some of the ways we Pocono people have fun during the fallow season: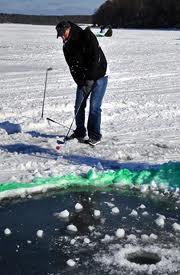 Ice Tee Golf Tournament. 9 holes of golf on a course created atop of frozen Lake Wallenpaupack. Prizes for "craziest" sled, "wackiest" hat and the golfers who land the closest drive to "Wally Paupack," the snowman-mascot of the Pocono "Mountains" Lake Region.
Snowtubing. Camelback, Jack Frost, Ski Big Bear, Shawnee and the rest of the ski "mountains" boast 100% snowmaking, which is an environmental atrocity, but that's another story. The bottom line is that the skiing and boarding here suck. But the snowtubing is awesome, especially for families with young kids.
Spas and Resorts. Okay, so here's something the Pocono "Mountains" of Pennsylvania do to perfection: Relaxation. God, the spas here are AMAZING. The architecture; the scenery. The spa treatments themselves. Enjoy true luxury in a French chateau or Italianate mansion. Many of the high-end hotels and spas here were built in the 1800s with local timber and stone.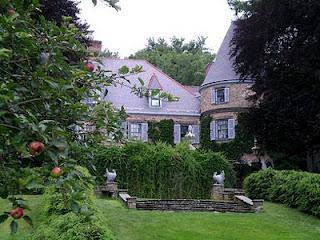 Historic Sites. Founded in 1659 (long before the mass genocide of every local native American, but that's another story), the Pocono "Mountains" have been around since the beginning of this illustrious country. Superb oil paintings from the Hudson River School grace the walls of the Hotel Fauchere in Milford. Grey Towers, also in historic Milford (400 of the town's 655 buildings have been declared "historically significant," according to Travel + Leisure magazine), was one of the first sites to be deemed a National Historic Landmark. Quirky museums, tons of railroad memorabilia, coal mining monuments and more, including the town of Jim Thorpe, named for an athlete who never set foot there.
Honestly, I don't know how we pack so much fun into a 2,693-foot hill.