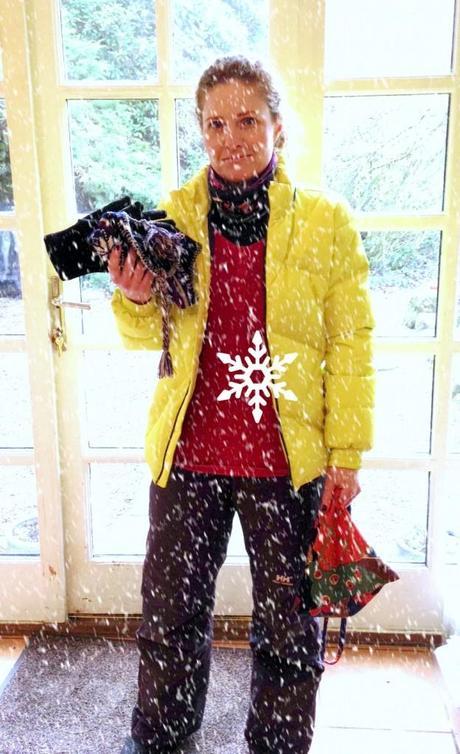 Why so serious? Staying warm is no laughing matter.
Damn, but it's cold out there. Heck, it's even snowing inside – just look at the photo. And since I'm on coxing duties until my rib finally heals, and good winter coxing gear is essential, I'm seriously interested in how to keep warm in the ninth seat. If the cox isn't happy you'll all have a miserable outing, so here is my definitive guide to what to wear for coxing in the winter.
1. Layers, layers and more layers
Now then, layers. Or lairs, as Mary Berry inexplicably calls them. However you say them, you have to get them right, and this is more of an art than you might think. Too thick and you can't move. Too thin and you're shivering. For 7 degrees, as it was on the river on the day this picture was taken, I was in a long-sleeved Uniqlo HEATTECH polo neck base layer, plus a long-sleeved club tech top, plus a thermal top from Lidl (always worth looking out for their ski kit when you're in the Random Aisle. I also wore Helly Hansen thermal leggings borrowed from one of my kids, left over from a school ski trip – again, Lidl is a good port of call for base layers. On this occasion I got it just about right. I shall be adding in an extra layer or two this weekend, when the temperatures are to plunge considerably lower. I'll also be adding an extra handwarmer – see below.
2. Padded coat
The one in the picture was an incredibly generous gift from Reebok at a Fitness Writers' Association party, and was wildly expensive (also, sadly, discontinued) but there are plenty of variations on the theme out there. The main thing is it needs to be padded and properly warm. I particularly like this jacket because it's quite fitted, so you can squeeze into the cox's seat and it doesn't catch on anything. Even in the ninth seat you don't want to wear stuff that flaps about. It's showerproof, so wouldn't be any good in a downpour – I have a different coat for wet conditions. I've also detached the hood from mine – again, I don't like anything that might get caught.
3. Ski pants
Mine are proper antiques, bought back in the mists of time, and are a bit chunkier and more flared than I would like, but they do the job so I'm not going to splash out on new ones. Supermarket ski pants would be fine, but check to see if they're waterproof.
4. Hats, scarves, gloves
I have a bit of a collection. In the picture I'm wearing a snood thingy that I was given in our women's squad Secret Santa one year; I also have a club fleece neckwarmer for when I'm feeling fancy. It's important not to wear anything that might dangle and get caught, so don't wear an actual scarf. As for hats, I have a ski hat that I bought in the Alps (get me), but in wet weather I wear an unattractive but effective waterproof cap from Sealskinz (it has the added advantage of keeping the headset from slipping down).
I've still to get the glove thing quite right. I like to be able to feel what I'm doing so don't like to wear thick ski gloves when I'm coxing. I have some waterproof gloves from Sealskinz that don't fit very well, and some thin, sports gloves that aren't waterproof. I'm currently all over the Sealskinz site looking at their updated range of waterproof gloves in the hope of finding the perfect pair. Tweet me your recommendations!
5. Socks and shoes
The most important thing is not to wear wellies. If you went in the river they could fill with water and drag you under. This isn't an urban myth; it recently happened to someone I know and it was very frightening. So, the answer is either waterproof socks or light trainers that wouldn't fill with water. Leave your wellies on the bank. Because I tend to wear trainers, I don't go in for particularly thick socks. Which brings me on to my secret weapon…
6. Handwarmers and footwarmers
These, my friends, are what will save you from hypothermia. Any outdoor shop will sell handwarmers, though footwarmers can sometimes be tricky to get hold of (I got some in our local car accessory shop, randomly). Shove the handwarmers in every available pocket, and if you're really clever, tuck one into the back of your waistband. It'll keep your kidneys warm and makes you feel cosy even in freezing temperatures.
7. Hot water bottle
This is my top tip from the lovely Di at Rock the Boat. If you're coxing at a chilly event, put a hot water bottle in your kit bag, so your change of clothes for afterwards is toasty. Genius.
8. And if it's really, really cold…
Sometimes it's just not safe to go out. Know the cold weather guidelines; your club should have some (and should circulate them to members). If you're not sure, ask, and if you think your crew is risking your safety, don't be afraid to speak up. You are, after all, officially Master of your Craft (oh yeah!) so you're the boss.
Now you know how to stay warm, the only thing that should be making you miserable on your next cold outing is the performance of your crew, and I'm afraid I can't help with that. Happy coxing.