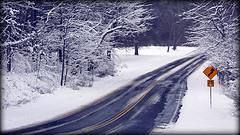 Image by blmiers2 via Flickr
Money can be especially tight in the winter, with the triple threat of Halloween, Thanksgiving and then Christmas to set you up for the season you could be feeling like your budget is stretched to only being able to spend evenings at home reading a book by candlelight. However, you don't have to stay confined, in the dark and be bored this winter with these tips to save some money on your cold weather activities.
Enjoy the Snow
There is something magical about the snow, and no matter where you live there are just never enough opportunities to get out there and enjoy the purity of the season. There are plenty of ways you and your family and friends can enjoy the snow this winter without stretching your already overworked budget any further:
Cross country skiing. If you already have a pair of skis and boots they probably spend most of their time in the garage or the attic. Well get them out and have your own winter wonderland adventure, but save yourself the cost of a resort holiday. Instead, pack a picnic lunch in a small backpack and head off to get a great workout and enjoy the beauty of the season. Even if you don't have your own skis you can usually hire a set very cheaply for around $10 a day.
Snowman competition. Rally your neighbours, whether kids or adults, and challenge them to a snowman building contest. Nominate a impartial person to be the judge and set about creating unique snow sculptures in the yard. Contestants can use items them have in their home and if each person make a $1 or $2 donation to be a part of the contest, that money can be used to buy a prize.
Sledding. Sledding requires very little skill but can generate a whole lot of fun for kids and adults. All you need is a sled and a snow covered hill; your sled could be a traditional sled made from wood with metal runners to control and glide the sled. You can also find foam or plastic sleds which are lightweight and easy to drag back to the top of the hill. A toboggan will have runners and a steering wheel and can be used by anyone of any age, while plastic saucers or discs are a more daring and uncontrollable option.
Skating. In most cities you will be able to head down to the public skating rink where you will pay a nominal fee for access to the ice and hire of the skates. You can then stay the whole day and get a great workout, have some fun and develop your skills and balance.
Snowshoeing. All the equipment you need is a pair of snow shoes which will be around $20 to $40 depending on the size, and you can head out to explore your snowy neighbourhood and get some great exercise.
Get Outside
If you don't have snow in winter where you live, you can still get outside and enjoy winter, without spending a lot of money – or any money at all, for example you could:
Go for a walk. It is easy to feel a bit down and lethargic during winter time, but a walk through the park or a hike in the woods will be the physical exertion you need to boost your spirits. Once you get moving your body will soon warm up and you will feel energised as your blood starts pumping and you can enjoy the sounds of nature as you listen for the birds in what is usually a crowded park, but is still in the winter chill.
Carolling. A sure way to boost your spirits this winter and it doesn't cost you a thing. Gather a group of friends or family, maybe even someone with a guitar, and hop in the car to sing carols for your friends, or simply walk your neighbourhood and get to know others in your community.
Community events. The schools and community theatres in your neighbourhood are probably hosting a number of events this winter which you can be a part of. These events are usually free or require a small donation, which will go towards maintaining the school or theater itself. You might be able to catch a show, see a local choir perform or get together for a community fundraising event, so check the websites of the venues in your area.
Picnic. Getting out and about in winter really works up an appetite once you get going, so make sure you pack a picnic as you enjoy the outdoors. Don't forget a blanket and a thermos of hot chocolate, tea or coffee, or even soup.
Hiking. You may have gone hiking through the national parks in your areas numerous times in the warmer months, so why not head out again and see how the landscape changes in winter.
Stay warm
The key to enjoying your winter activities and taking advantage of opportunities which won't cost a lot of money is staying warm. Therefore you need to work on your layers, starting with a lightweight base of a long sleeved shirt made from wool, polypropylene or silk because unlike cotton these fabrics will draw moisture away from your body and keep you warm. Then keep insulating with a down vest, fleece jacket or wool sweater and choose a final layer which will keep the wind out such as a windbreaker or winter coat. Then add your hat, gloves, wool socks and scarf and you'll stay warm all day outside.
If you're still not convinced about heading outside this winter treat yourself to a tropical escape you can afford by heading to your local botanical gardens. The botanical gardens likely have a greenhouse where you can enjoy the warm climate and explore the lush greenery.
Stay inside
Of course there are plenty of ways to enjoy this winter inside as well, such as:
Volunteering. Winter can be a particularly hard time for people who aren't as well off as you are, and this can be a great opportunity to give back to the community, and teach your children about the value of giving. Bundle up the family and head out to your local shelter or charity where you can volunteer to wrap presents, cook meals, hand out food or presents, spend some time with a child or read to the elderly. Start by checking your church or community center for places you can volunteer. You could even sponsor a disadvantaged family, but the gift of your time can be just as generous.
Movie night in. On some cold winter nights there is nothing else you can do but snuggle up by the fire and this also makes for a very affordable winter activity. You can invite friends or family over, or just enjoy the night in-house where you watch movies, play games or just talk, enjoy the fire and the hot chocolate conveniently located in the kitchen.
Cookie swap. Gather a group of friends and have everyone bring a batch of their favorite cookies. You can spend time catching up, tasting each other creations and at the end of the night you can take home a few of each person's cookies, which can perhaps be your movie snacks for the night?
Have a party. It always seems like a good idea to go out and celebrate the festive season but not only are all the restaurants and bars crowded and noisy, they're also expensive. Instead, host a party at home where you simply ask people to bring their own alcohol, or have each person bring a dish. You'll spend a great night in with only the people you want to see and for a fraction of the price.
Make your own gifts. This not only serves as an affordable winter activity, but can also save you money on your Christmas gifts too. You can get the whole family involved in your project whether you are making soaps and candles, baking cookies or making jam, everyone can help with the preparation and the wrapping, and time you spend making your gifts is time you're not out spending any money.
Alban has lived a frugal lifestyle for several years and loves sharing his experiences online. When he is not blogging, Alban reviews online savings accounts.