Hey guys! Today for lunch I had bbq. You've all seen it and it really isn't that pretty so I didn't take any pictures. Sorry if you're disappointed.
I had the brisket sandwich with potato salad. Lots and lots of bbq sauce! I also had a double chocolate cookie. Bbq without a cookie is sac-religious… I'm sure of it.
Wine of the Week!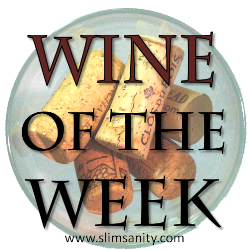 My girl Alysia, over at Slim Sanity does this really cool thing were she tries different wines every week. On Friday she does a Wine of the Week post and you can link you own wine posts to it.
I love this because I'm trying to discover wines. I'm the only drinker at my house. Max and I both like to try different beers, wines and cocktails but my family doesn't drink… at all. I don't get exposed to lots of different types of beverages because they aren't around. I have to make a point and go try them. Which is really cool and fun, but it can be kind of intimidating. And it's easy to stick to your favorites which means I never try anything new.
I'm hoping to try a new wine a week, and link my post to Alysia's. That way I'll figure out what I like and also how to pair wines with the foods I make.
This week I tried a Shiraz by Yellow Tail, an Australian winery.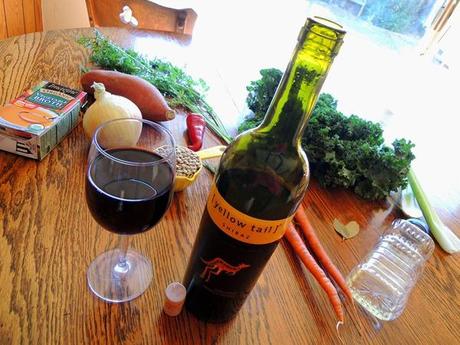 I learned that Shiraz are only made in Australia and they are spicy with a sweet under currant. They go wonderfully with pastas, lentils, and spicy dishes.
So far I really prefer white wines, but I really liked this red. It isn't as acidic and bittey as a lot of the reds I've tried. I would definitely buy it again.
I bought this wine because I was making…
Spicy Lentils with Sweet Potato and Kale
I adapted this recipe form Jenna's at Eat, Live, Run.
It makes 4 servings and is very-very nutritious.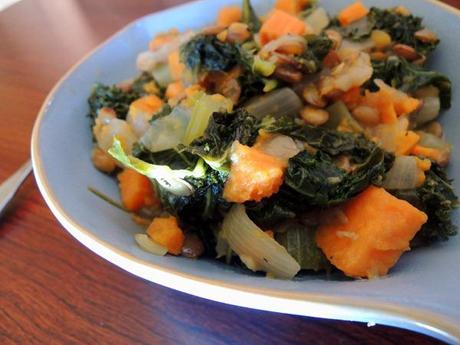 Ingredients
1/2 cup green lentils
2 small carrots, peeled and chopped
1 small yellow onion, diced
2 cloves garlic, crushed
2 medium stalks celery, diced
1 bunch kale, washed and ripped without stalks
2 dried bay leaves
2 sprigs rosemary
2 serrano peppers
1/4 tsp salt
1 sweet potato (or yam… who can tell the difference), peeled and chopped into small cubes
2 tsp cooking oil
2 cups vegetable stalk
Directions
Heat oil in a large pot. Add onion, celery, carrot, and potato and stir for 6 minutes. Add garlic and kale. Heat until the kale is wilted.
Add the lentils, bay leaves, rosemary, serrano pepper, and vegetable stock. Bring to a boil then reduce to a simmer. Press everything down so the lentils are in the stock. Let simmer about 30 minutes, or until all liquid is absorbed. Mine took about 4o minutes. Season with the salt (I also added black pepper).
Remove the serrano pepper, bay leaves, and rosemary sprigs. Serve and enjoy.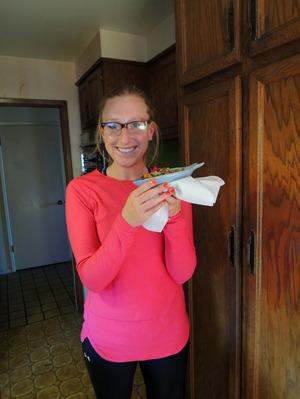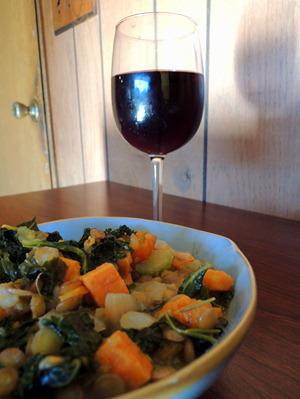 After standing in the wine aisle doing google searches (again) to figure out what kind of wine goes with:
lentils
spicy foods
sweet potatoes
I had a combination of Merlot, Riesling, and a strange red wine I'd never heard of that starts with a C in my basket.
Luckily I found a website that recommended Shiraz for spicy meals. I definitely liked that option better than the 3 I had.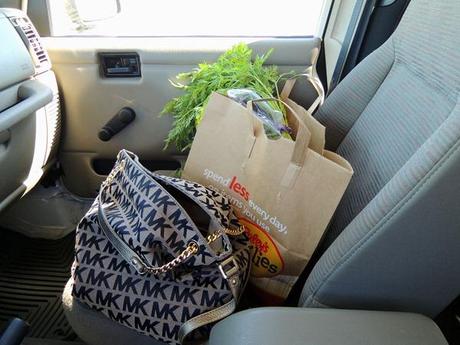 I was really really excited to make this because I've never cooked with lentils before. In fact this is my first legume experience ever.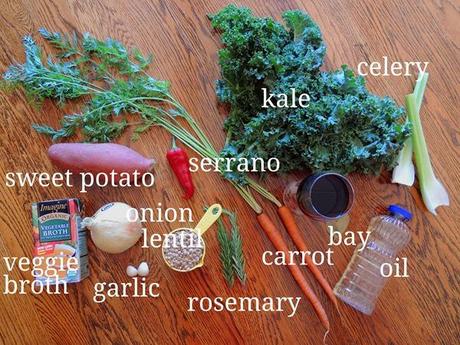 It looks like a farmer's market!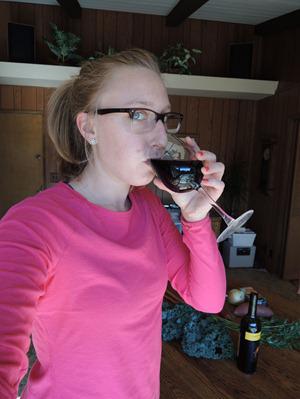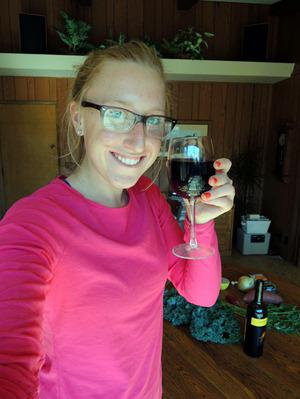 I drank some Shiraz while cooking. I believe the cook gets to drink… and never do dishes.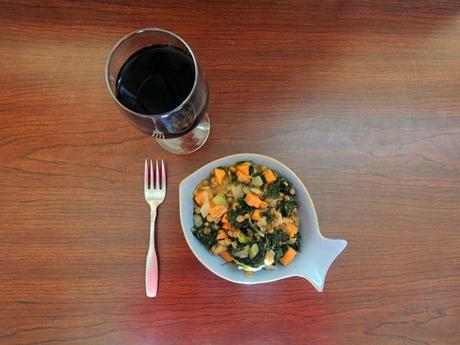 This recipe took some time. But it was all prep work. The cooking part is really easy. And it makes the kitchen smell amazing.
I was cooking as everyone came home from work and I was getting lots of complements, on smell alone.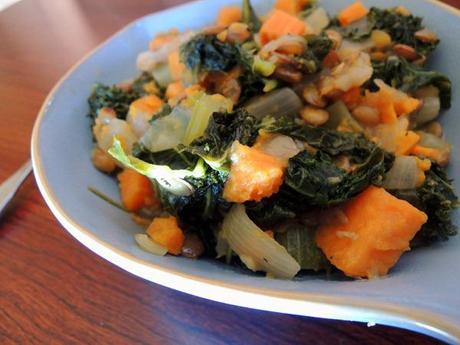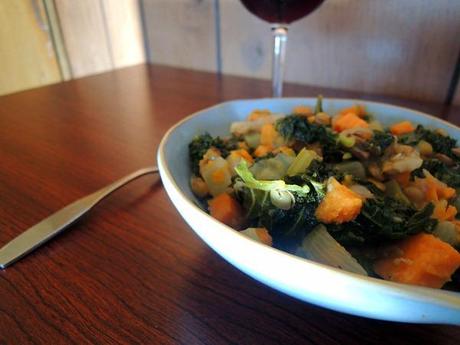 Outtakes…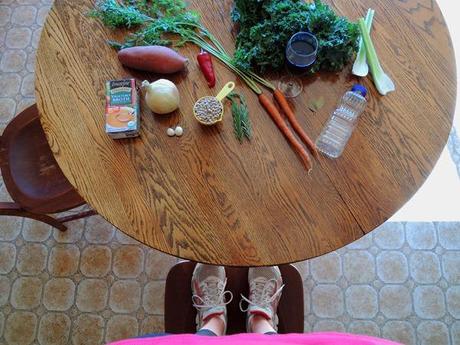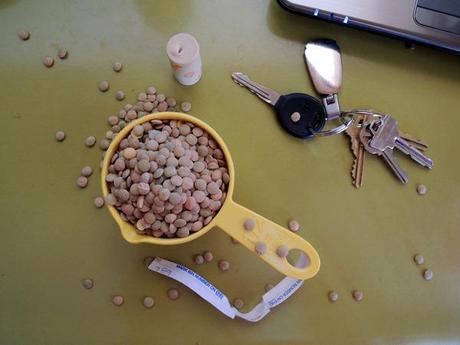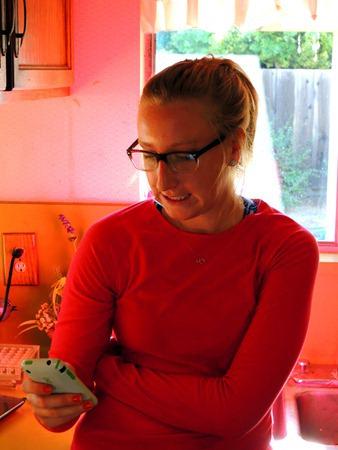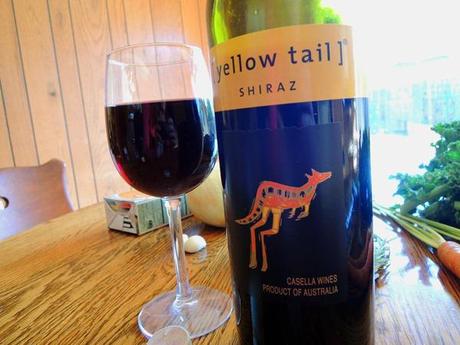 Have a great evening guys! I hope you enjoy the lentils.