WIN a Wine Cartoon Tee Shirt!
As I've mentioned before, I couldn't draw a bath, something that saddens me and has caused me irreparable mental anguish. I was born to be an artist… except for that whole talent thing. But then (cue the trumpets) a twitter buddy Harrison Wheeler, who IS a cartoonist (and who also wrote a book, what an ass) sent me some art based on one of my tweets and we've now collaborated to create the awesome wine cartoon below! Which means…
You can now share this wine cartoon with all your drunken girlfriends!
This friendship-saving wine cartoon will save you the embarrassing issue of having to tell them what a lush they are. I'm all about public service.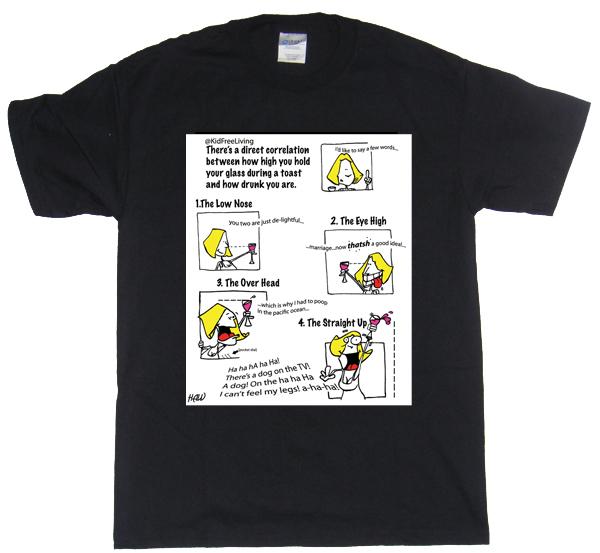 You can also follow either one (or both!) of us on Twitter (@kidfreeliving & @wheelerharrison) or Facebook (
Me
- Him)  and share the wine cartoon that way blah blah blah.
Also available as a wine cartoon tee shirt!
WIN A WINE CARTOON TEE SHIRT! Just by commenting below….
What's that? A high quality wine cartoon tee shirt for free? Have you gone mad?
NO! I'm going to give one wine cartoon tee to a random commenter on this post. It may help your chances if you tell me if "commenter" is spelled "commentor" or "commenter" because I have no idea and I'd like to know and I've already used up all my Google searches for the day trying to figure out if Beyonce is pregnant.
I'll put all the commenters -ors in a hat and let the dog pick the winner on June 21st.
Now go get yourself a glass of wine, it's FRIDAY!