Welcome to binNotes | redThread™
Inspired stories about wine and taste makers.
By L.M. Archer, FWS | Bourgogne ML
Wine Book Review:
Terroir Champagne: the Luxury of Sustainable, Organic and Biodynamic Cuvées
by Caroline Henry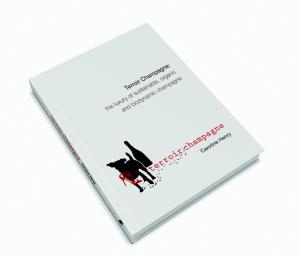 Like Champagne?
Want to understand more about it, but not sure where to start?
Or maybe just looking for a stocking stuffer for your favorite wine lover?
Here's one solution –  the book Terroir Champagne by fellow wine writer and international author Caroline Henry.
Terroir Champagne provides the key to unlocking a complex region with uncomplicated ease, a visually appealing book replete with lush photos and concise text.
A certified sommelier, journalist and author, Caroline Henry possesses a keen understanding of Champagne's unique history, varied soil types and time-intensive vinification practices. A resident of Hautvillers since 2011, the author also enjoys personal relationships with most of the region's sustainable, organic and biodynamic grower-producers.
Henry showcases over eighty of these mostly family-owned enterprises in her three-part book, a book which begins with a pair of thoughtful forwards by multi-award winning Champagne writer & gastronomic reporter Michael Edwards and International Wine & Spirit Communicator of the Year 2015, International Champagne Writer of the Year 2011, and The Champagne Guide" author Tyson Stelzer.
Part I outlines the modern history of Champagne's sustainable, organic and biodynamic movements, an explanation of biodynamic preparations, and a handy breakdown of regional soil types.
Part II provides deeply personal portraits of growers by region – Aube, Cote des Blancs, Montagne de Reims, and Vallee de la Marne – along with accompanying menus for each producer's unique, hand-crafted cuvées.
Part III concludes with a short practical guide to where one can buy and enjoy terroir champagne, a list of organic and biodynamic growers, and a helpful glossary.
You can buy the book here. Now go out and celebrate what you've learned!
About the author. 
Read Guest Wine Writer Caroline Henry's feature on Bioenergetic Wine in Champagne here.
Copyrighted 2016 binNotes | red thread™. All Rights Reserved.