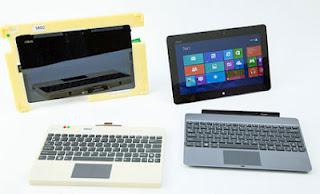 Microsoft is aware that it will not compete with other vendors through hardware for Windows 
RT 
tablets , because it is known that it had engaged several vendors that appeal to it. 
It seems that Microsoft is just going to compete with software-only field. 
Vendors selected to be ensured to meet the criteria and their specifications. 
Vendors are said to be joined with Microsoft to develop a tablet is Samsung, Dell, and Lenovo. 
Microsoft also had claimed that the tablet battery life will reach 8-13 hours when playing videos, and 320-409 hours when standby. 
If true, then the battery capacity of this tablet will be able to survive 1.5x compared to the battery on the iPad 2. 
Unfortunately, to date, only that information that can be found on Microsoft's mysterious tablet, but the users are able to test a version of Windows 8 by downloading its pre-release.
origin source ubergizmo