If you want that four-wheeled blend of carefree freedom and style, you can't beat a convertible with its top down. I've always been very attracted to these cars and have several of them here in my diecast model cabinets, but the odd thing is that I have driven only one (a Triumph TR3) and have ridden in a couple of others, quite briefly, and so they remain more of a fantasy car for me than something I have spent much time in. For this little posting, all the soft tops here are American (I'll save up my Europeans for later), and all of them are pictured cruising around the American backroads, stopping for a beer, looking for a cafe, filling up with gas, or checking into a motel somewhere.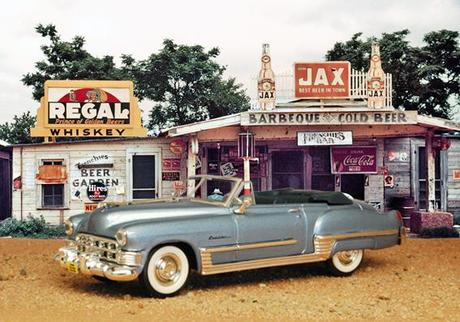 Driving this 1949 Cadillac Coupe de Ville might be cool with the top down, but down in
Louisiana it gets mighty hot, and so stopping for a beer is an easy way to keep your cool.
Now, I have to admit to not knowing all that much about American cars, but researching
them has been fun. The '49 Caddy was a special model. It was the first Caddy to run the new
overhead valve V8 engine (which then did Cadillac proud for decades). The earlier V8s
had all been side-valve engines. The new engine (331 cubic inch, 160 hp) was 200lbs
lighter, more powerful and had 14% better fuel economy than the old one. Famous racer
Briggs Cunningham took an almost standard Caddy over to the Le Mans 24-hour race
the next year, in 1950, and came in 10th outright, a very good result which speaks
volumes for this car's design and build quality. This model, by the way, is a nicely made
1:43 Yatming model from China.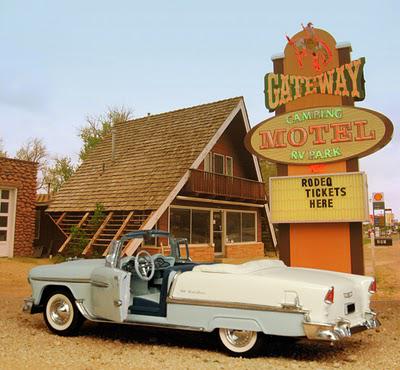 The 1955 Chevy Bel Air was also a milestone for that series of cars. This was the first of the
second generation of Chevy Bel Airs, and its new 265 cubic inch (4.3 litre) 'Turbo Fire'
V8 was an instant hit, so too the styling. Also available was a straight six powerplant, marketed
as the 'Blue Flame'. The 1:43 model pictured here is by Franklin Mint, and both doors open,
so too the hood (or 'bonnet' as we Aussies and Poms call the things). I love all that 50s marketing
stuff, and so for this little posting on US convertibles I'm tossing in some advertisements,
courtesy of You Tube. "The new Motoronic Chevrolet Bel Air. What's new? Everything!"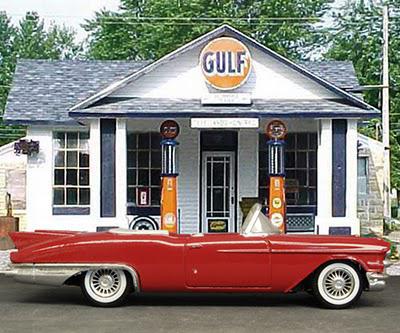 This 1957 Cadillac Eldorado Biarritz was a big car, weighing in at 4930 pounds. With a 365
cubic inch V8 with twin four-barrel carbs and a four-speed auto transmission, it was a thirsty big
thing, and so it's no surprise to see it filling up once more. The Biarritz was the convertible model
of the Eldorado, and the Seville was the two-door hardtop. This 1:43 model is by Solido.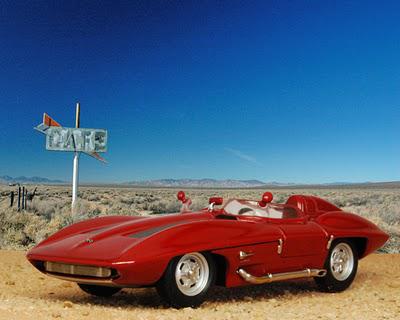 There's a cafe around here somewhere, and the driver of this 1959 Sting Ray Concept, very
probably Bill Mitchell, its designer, is hungry. This wonderful looking car was a concept car
with balls. Designed by the head of GM Design, Bill Mitchell, along with GM designer LarryShinoda, this car was the inspiration for the famous Corvette Stingray, which was launched in
1963. This concept car was more than a design exercise. With a tubular space-frame and
fibreglass body, it weighed just 2200 pounds (about 1000 pounds lighter than mostproduction cars of the time). It had a fuel-injected small-block 283 cubic inch (4.6 litre)
V8, which developed 315hp at 6200rpm. It made its debut in an April 1959 race, and in 1960
it raced and won the SCCA National Championship. It then retired from racing, and after he
fitted a passenger seat it became Bill Mitchell's personal weekend car. Exclusive car
you've got there, Mr Mitchell! The 1:43 model is a nice one by Auto Art.

Finally, to finish off this posting, one more charming 1950s advertisement for Ford cars, courtesy of You Tube. Who better than Lucille Ball and Desi Arnez, stars of the classic 1950s comedy show, 'I Love Lucy', to demonstrate how easy it is to change over from soft top to hard top, with the press of a button.