It's been a while (six months!) since my last post here at "The Die is Cast", so it's time for an update on what I've been up to. I've been building a model of a bus and a car, both from the Art Deco era, both from Europe in the 1930s. They're all part of an Art Deco themed diorama I am slowly putting together.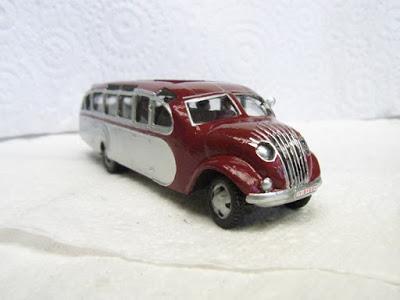 This is a little built plastic model of an Opel Blitzbus, the Strassenzepp Essen, or road Zeppelin. This actual bus was built in the 1930s, and was used notably to ferry around competitors at the 1936 Berlin Olympics, as a showcase of the modernity of those Neanderthal Nazis.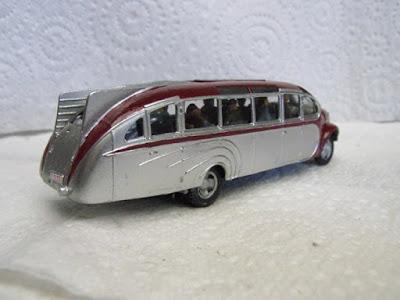 The plastic kit itself is by a Ukrainian company, Roden, and it's moderately OK (main components fitted together) and moderately crappy (dreadful decals), too. But it's the only Art Deco bus kit I can find. Love those fins! The people in the bus aren't part of the kit. I added some 1/72 Airfix plastic soldiers as "passengers" in my Blitzbus.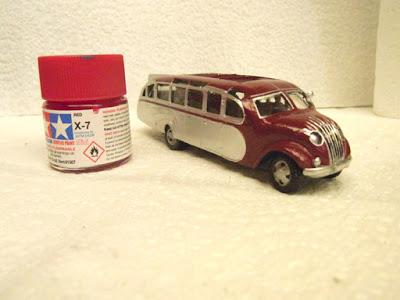 To give you an idea of its size, the bus is about as big as a 1/43 scale car, maybe a bit smaller.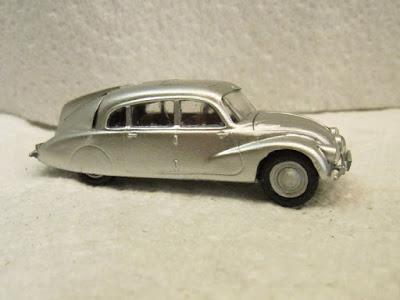 The other vehicle in my diorama will be this 1/72 scale Tatra T87, from a plastic kit made by Attack Models. Attack is a Czech company, but for my money I group them with the Ukrainian and Russian companies for quality of everything from castings to decals. The good thing about these people is that they make models of cars, planes etc that suit my quirky tastes.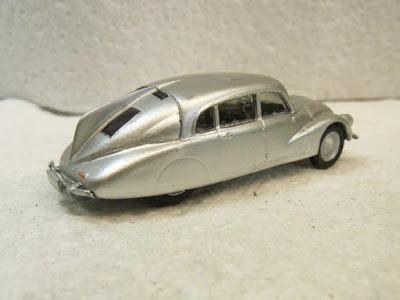 The model kit was for a WWII military Tatra T87, but it was close enough for me to make it into a nice, silver, civilian one.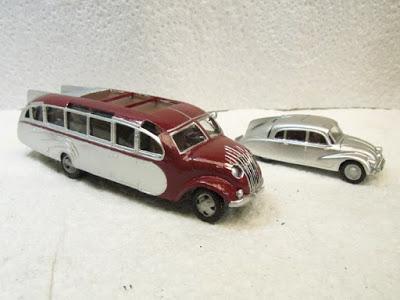 The bus was first produced in 1936, and the Tatra T-87 first appeared in 1936, so both are nice and new and shiny, and I love those fins on both of them.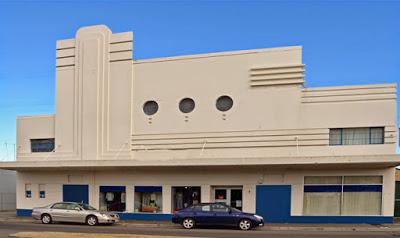 And this is an Art Deco theater that's in Tasmania. I am planning to build this in 3D using foam board, so this photo is simply my reference guide. I figure that for a beginner, three holes and lots of straight lines should be all I should attempt ...
I've made some progress since this posting, but I will save all that for an update next time I get a chance to do it.