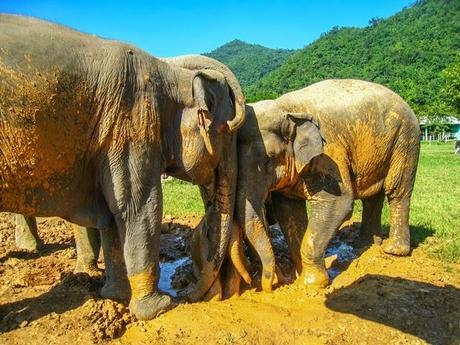 We won't be riding any elephants while we're here in Thailand. If there's a code to our travels, it's to try and leave a positive trail in the places we visit. It's not always easy to know how to make a meaningful contribution. Here in Thailand, it's a snap, and anyone reading this has the chance to make a difference too.
Riding elephants in Thailand is promoted to tourists as an exciting adventure to cap their Thai experience. During our meandering around Phuket the last month, we've already passed several of these elephant centers along the way to other activities: a cluster of swaying elephants in chains, their mahouts (dedicated trainers) nearby, and a lineup of tourons eager to jump on for the exotic experience of an elephant ride.
What people usually don't realize is the the process of capturing and taming elephants for the tourism industry is inhumane. It must start at a very early age, which means taking babies from their mothers- who are often killed.  Captured from the wild in Thailand and neighboring countries, young elephants are brutally abused to domesticate them. This video, and this story and image, illustrate how horrible it is. This is not a "sometimes" occurrence: this is simply the way it is for most of Thailand's tourist trade elephants, and it's a appalling.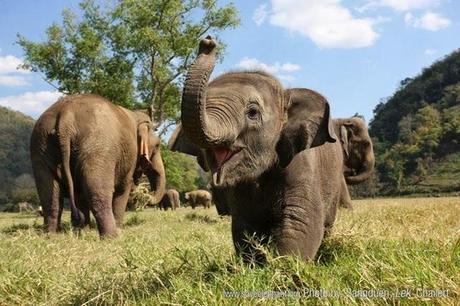 a happy elephant at the Elephant Nature Park - photo courtesy Safe Elephant Foundation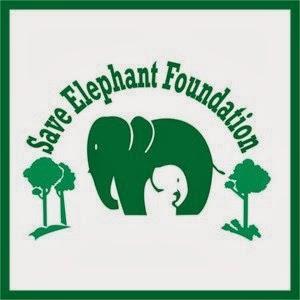 Save Elephant Foundation in Thailand has created a haven for elephants rescued from the industry and works to change public perception about elephants in the tourist trade. It was founded by Lek Chailert, who has been trying to shift the public mindset about the treatment of elephants in Thailand since she was a girl. The Elephant Nature Park is a home she's created for the mistreated elephants rescued from the tourist trade, to give them a better life. Lek's foundation has been tremendously successful: so much, however, that the park is full. She can't rescue any more elephants until additional land can be purchased.
To help support Lek and her nature park, a group of travel bloggers have all donated time and content to create the Travel Blogging Calendar for 2014, a beautiful hit of wanderlust inspiration. Each week, we deliver an email that highlights new destinations in words and photos. It's a peek into current holidays and festivals from other cultures you can enjoy from your desktop. The calendar is amazing: filled with events and celebrations around the world. I thought I was a pretty savvy, but many of these are entirely new to me! The calendar has a purpose, and it's not just to pique your wanderlust. It's to help abate the torture of Asian elephants in Thailand.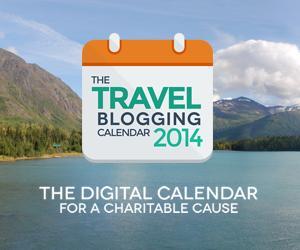 To subscribe, just make a donation through this link to the Travel Blogging Calendar site. Every dollar donated will go directly to Save Elephant Foundation, support the care and feeding of these incredible animals, as well as funding purchase costs to rescue abused elephants from their owners, and to expand the sanctuary lands.
Every subscriber is entered to win a trip to Thailand valued at $3,300! Airfare vouchers of $2,000 toward round trip travel to Thailand have been donated by Flight Network. The very cool ethical tour operator, Where Sidewalks End, is providing an eight day / seven night tour for two valued at $1,300.
This is an entirely grassroots activity. It's the brainchild of travel blogger Jeremy Foster, who has rounded up a circle of others who seek to give back. Together, we have put considerable effort into creating a body of work that we're proud of, one that we hope shares the wonder and adventure of travels we've experienced around the world- and one that provides information as well as entertainment on a weekly basis.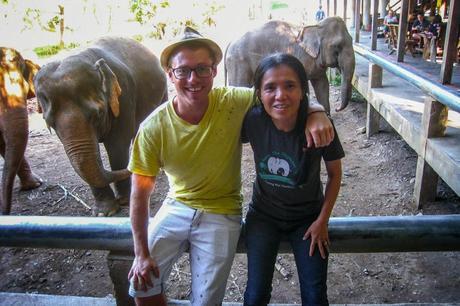 Jeremy and Lek, at the park - photo courtesy Jeremy Foster
I hope you'll consider supporting this charity by signing up for the newsletter and making a donation. It's a beautiful weekly piece of dream fodder, it supports an excellent cause, and it's helping the hard work of many hands to support the Save Elephant Foundation and build our own little piece of travel community. And who knows- maybe you'll find yourself the lucky winner, and come over to Thailand to experience the magic for yourself.
* top photo of elephants at Save Elephant Foundation's nature park - courtesy Jeremy Foster