2013 is set to be a great year for Swoop Studios (you don't hear that much these days). In fact, it's going to be such a good year for us that, that we've decided to give away a brand spanking, super fast loading mobile website to one lucky business or business start-up.
To enter our competition click here
There are a few little rules as we want the site to be a success for the winner. Here they are:
- You can be based anywhere on the Planet Earth (no aliens please)
- You have to be passionate about growth and want your business to be a success.
- You must be devoted to the internet
- You must LOVE free things
- You must LOVE to enjoy yourself every now and then because you work hard!
Thats it!
So why a free Mobile website? 
Well, if you've not noticed, many people use their mobile smartphone or tablet to access the internet (you might even be reading this on yours now).  People use internet daily to purchase products and services as well as consume information. Many businesses have not realised the potential this great opportunity, which is why we wanted a special business to see the difference a mobile website could make for their business.
What can I expect my mobile website to look like? Check out some example of our mobile web work here: http://www.swoopstudios.co.uk/our-work/mobile-web-portfolio
Almost forgot, we will give you 6 months free hosting with your mobile website.
Can you give me anything else? Nope!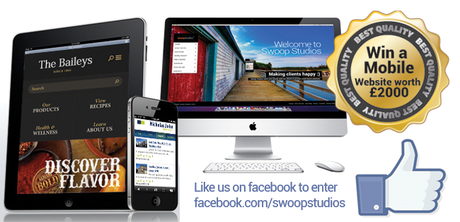 By entering this competition you are agreeing to all the terms specified below;
Terms and Conditions
Only one entry may be made per business, additional entries will be ignored
Closing date for entries 28/2/13 at 18:00pm
This Competition is in no way connected, sponsored, affiliated or administrated by Facebook or Twitter
By entering our  Competition you agree to give Facebook  complete liability release
By entering your email address you agree that we may send you future marketing emails.
Your information will be kept by Swoop Studios only and will not be shared or sold with partners including Facebook or Twitter
Entries to our Competition are exclusively through the Swoop Studios Facebook page (http://www.facebook.com/swoopstudios).
Any questions relating to the details of this Competition should be made to our  customer helpline on 020 7700 9999 (Mon-Fri 9:00am-18:00pm GMT)
The promoter reserves the right in discretion to verify all winners meet the criteria set within the terms and conditions of the Competition
No purchase is required to enter our Competition, only a valid Facebook account and Internet access is required
Once a competition winner is selected, the winner will be contacted via the email address and/or the phone number provided. If no response is received Swoop Studios reserve the right to select another winner at random
The Prize must be accepted as offered and is not transferable.
Participants should not take any action which is illegal, constitutes a breach of trust or is otherwise defamatory or derogatory about Swoop Studios.
There are no cash or other prize alternatives available in whole or in part except in the event of circumstances outside its control the Promoter reserves the right to substitute similar alternatives of equal or greater value.
The Promoter reserves the rights to withdraw the Prize in whole or in part if the Winner fails to observe this requirement or if there is any breach of these Terms and Conditions.
The promoter reserves the right to alter, amend or withdraw the Competition as necessary due to exceptional circumstances outside of their reasonable control.
The promoter does not guarantee full secure and uninterrupted access to the Competition between the opening date and closing date of the Competition outside of it's control.
Any question concerning the legal interpretation of the rules will be based on English law and the Courts of England and Wales will have exclusive jurisdiction
Prize Details
There is only 1 mobile website prize on offer to the winner of our competition. A winner will be chosen completely at random after the closing date of the Competition.
Custom bespoke design for a Maximum of 10 page Mobile website to the value of £2,000 GBP
6 Months FREE Unix basic hosting
How to Enter
Visit the Facebook page for Swoop Studios (Facebook.com/swoopstudios)
Click on the "Win a Mobile Website worth £2000″ Tab
Participants must then Like the page by clicking the "Like" Tab at the top of the page
Participants will then be required to enter the required information the boxes provided
Once information is entered, Participants should then click the "Continue" button to finalise entry