Win great books, a $100 gift card and a Kindle Fire from eNovel Authors at Work!
The Fussy Librarian is hosting giveaways almost every day in July from some fantastic authors from an author's group I belong to: eNovel Authors at Work.
Everyone who enters is eligible for the grand-prize drawing, which will land one lucky winner a Kindle Fire and a $100 Amazon gift card for another!
There are several ways to enter, and the more times you share with a friend, the better chance you have. So what are you waiting for?
July 8 – Kerry Donovan a Rafflecopter giveaway
July 9 – Traci Hall a Rafflecopter giveaway
July 15 – Mimi Barbour a Rafflecopter giveaway
July 17 – Ellie Campbell a Rafflecopter giveaway
July 18 – Jenny Harper
a Rafflecopter giveaway
July 20 – Florence Osmund a Rafflecopter giveaway
July 21 – Amy Vansant
a Rafflecopter giveaway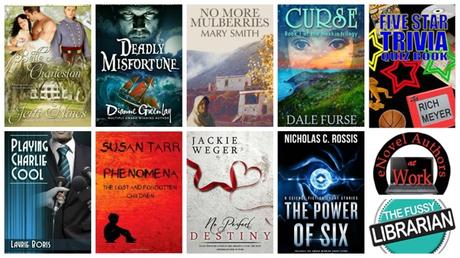 July 22 – Jerri D. Hines a Rafflecopter giveaway
July 23 – Dianne Greenlay
a Rafflecopter giveaway
July 24 – Mary Smith a Rafflecopter giveaway
July 25 — Dale Furse
a Rafflecopter giveaway
July 26 – Rich Meyer a Rafflecopter giveaway
July 27 — Laurie Boris
a Rafflecopter giveaway
July 28 — Susan Tarr a Rafflecopter giveaway
July 30 — Nicholas Rossis a Rafflecopter giveaway