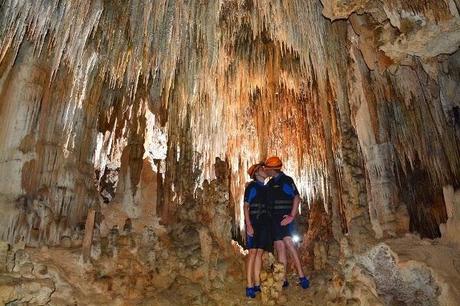 After all of the activities we took part in during our stay in Cancun, we had a very hard time picking what we thought was our very favorite.  Between snorkeling with whale sharks, swimming with dolphins, visiting nearly a dozen cenotes, eating our way through the region's top restaurants, exploring Mayan ruins, and more, we truly had a wonderful time.
But one activity stood out as being the very best from beginning to end, and that was the underground adventure at Rio Secreto.  When it comes to exploring the beautiful scenery of the Yucatan, there is no better choice.
Not What I Expected - In a Good Way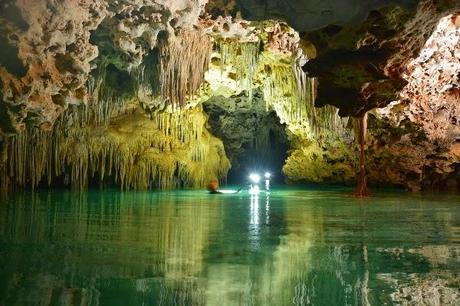 I went into Rio Secreto with a bit of hesitation.  Prior to visiting Cancun I had an overwhelming fear that every experience there would be manufactured.  You may have an idea of what I mean, something artificially created for families, the party crowd, or forced tour group excursion (all of which I was not looking to experience).  I don't necessarily have anything against these activities, it is just that unless I'm in that mindset I really have no desire to experience it.
I'm happy to say that Rio Secreto is nothing like that. 
Not even close.
A visit to Rio Secreto is a nature lover's dream come true.  All of the fears I had about a staged experience were alleviated within moments of going down into the caverns as there is absolutely nothing unnatural there.  It is just you, your fellow travelers, a guide, and the beautiful natural formations that were only found just a few years ago.
Excited yet? 
You should be.
Exploring the Caverns of Rio Secreto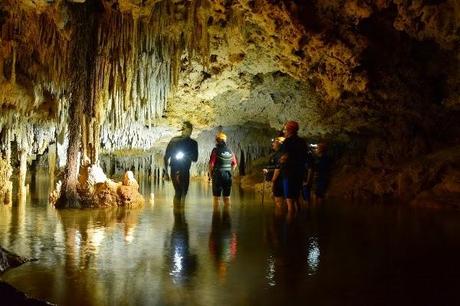 For our event, a speaker's outing for the bloggers' conference TBEX, we were given two options - the aptly named "dry route" and "wet route."   This choice was easy, because the adventure addict inside me knew there was only one option - we were getting wet.
After donning our wetsuit and life jacket, we made our way down into the underground cavern that connects to a massive river system that is believed to have formed many of the cenotes in the region.   This particular cavern spans many miles and we were going to explore a small section of it with our guide.
In many cases, it is best to let the photos do most of the talking.  We had a photographer from Rio Secreto capturing our experience and really got some great shots illustrating the wonders of the cavern.   From the numerous stalactite and stalagmite formations to spotting an extremely rare blind fish that our guide had only seen three times in about six months, our journey through the cavern went down as one of my favorite experiences in recent memory.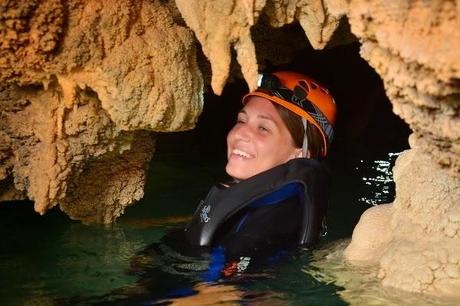 The highlight of the journey into Rio Secreto is a tie between two experiences in my mind.   The first is simply swimming in the underground river system while marveling at the beautiful rock formations (yes, you get really wet on this one) and the second is the part of the tour when everyone turns their lights out and you sit in perfect darkness for a few minutes.  As there is no natural light that enters this cavern, your sense of sight will be worthless, and it is a very surreal moment that you do not get to experience very often.
As we finished our 90 minute tour, our guide told us about their extended half-day option that lets you get deeper into the cave system for even more exploration.  When we return to Mexico you can be sure what we'll be signing up for!
Win 2 Tickets to Rio Secreto!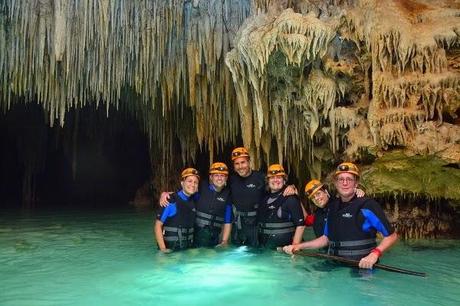 Now we've reached the part of this post that everyone has been waiting for -
the contest
!
After attending Rio Secreto as a part of the travel blogger's conference, TBEX, we were given 2 tickets to use on a second tour at a later date.  Rather than keeping them for ourselves, we want to give them to one lucky reader who may be heading to Cancun in the future!  These tickets are valid for a standard tour at Rio Secreto and do not include transportation or accommodation.
As always, we're using Rafflecopter for our contest, so head to the box below to enter.  The contest will run until
October 3rd at 11:59pm Eastern time
and the winner will be chosen at random out of all verified entries. 
Remember, you must log your entries on Rafflecopter for them to be valid.
a Rafflecopter giveaway
Thanks to Rio Secreto for hosting the TBEX speaker's reception and allowing us to give away our passes in this contest! All photographs in this post were taken by the Rio Secreto photography team.  Rio Secreto is located just south of Playa del Carmen in the Yucatan region of Mexico.