With the Chelsea Flower show well underway and the great and the good pouring into the Royal Hospital Gardens to view the best of British Garden Design, a very different competition is taking place on www.MyBuilder.com.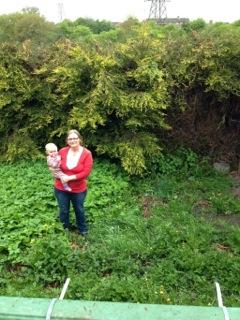 WEEDBOUND - one of the entries so farWin a Grand For Your Garden is all about the 'everyman' gardener, with the public not experts voting 12 gardens onto the shortlist. To date 128 people have posted entries and over 4,000 votes have been cast. Not surprisingly, these competition gardens paint a very different picture of the Great British Backyard!
Most of the MyBuilder owners are cash-strapped, many have been hit by a domestic tragedy like illness or divorce, some were flooded during last year's bad weather and only few have green fingers.
With this in mind we asked landscaping expert Terry and Paula Walden from Vision Landscape and Design, for inspiration and the award winning husband-and-wife team have come up with a plan that they hope offers maximum pleasure with minimum maintenance.
No stranger to Chelsea (he's a Gold Medal and Best in Show winner, as well as Gold Medallist at Hampton Court) Terry Walden is the landscape company's front man and it is his wife, Paula, who keeps a keen eye on the project budgets.
"You do not have to always change the entire design of a garden in order to transform it. A few changes can really make all the difference," Paula explains, using a garden project that they completed not long ago (see below) to illustrate her point.
"A few months ago this garden had tired, broken paving and a muddy lawn that the family could not use. By keeping to the original idea and layout of the garden and bringing in new materials, the garden was instantly transformed into the family place it is now."
Generally you're told when re-making a garden on a budget that it is better to stick to planting or soft landscaping, if you want to keep the costs down. Terry begs to differ. With some careful thinking and planning, he believes you can achieve the two, as long as you are sensible.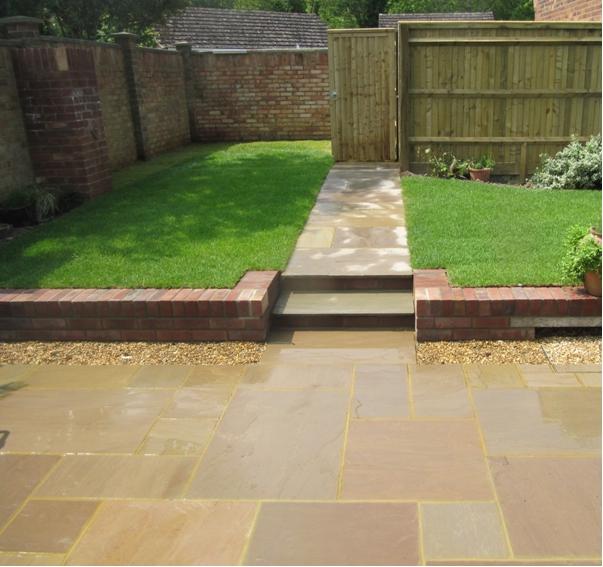 £1000 Garden Makeover from Vision Landscapes and Designs
"When you are on an a budget you often rule out a new patio, but a small patio area does not have to push you over budget. There are some really good choices of Indian Sandstone to fit into various budgets, with a great choice of colours."
According to Terry, the secret to an enduring garden design, without going overboard on cost, is to delineate different areas. The decision that most of the planting would be done in pots means the garden can be continually refreshed at minimal cost. It maximises the garden owner's opportunity to express themselves in their garden without creating the need for high levels of maintenance.
"It is always a good idea to create defined areas in the garden, this is achieved by adding a small retaining wall with small steps (using the patio slabs) leading to a newly turfed area. We decided not to add flowerbeds in order to keep the lawn space as large as possible. The client really liked to create their own planted pots which can then be changed easily to create different looks at different times of the year."
Terry's design is a perfect solution for those MyBuilder.com competition posters, who have said they are looking for a safe place where the kids can play and the dogs don't escape.
"Fencing is always a good budget option to cover any unsightly walls that would be costly to repair or re-render. A few fence panels either painted or natural can make a nice new feature and the addition of a new gate can be the final touch," says Paula, "and a nice green lawn is the heart of any family garden. With some new turf and some TLC this can be the main feature of the garden."
Vision's message is: keep the garden simple for now, ensure it stays easy to maintain and therefore continues to look beautiful all year round and remember, you can add items later including flowerbeds, climbers and small hedges, as and when your budget (and the family) allows.
So transform your garden and submit your entry to the MyBuilder.com competition now! Entries close on Wed 29th May and the 12 entries with the highest votes will enter the shortlist to win the main prize. 
VISION LANDSCAPE AND GARDEN DESIGN £1000 GARDEN
  Materials used:       200 bricks : £100   Indian Sandstone Paving : £396   Sand & cement (for patio and wall) £180   Fencing & Gate £160   Turf £160
   TOTAL: £996
Good luck!