At this time of the year, with plants growing so fast, I sometimes feel overwhelmed by the garden. New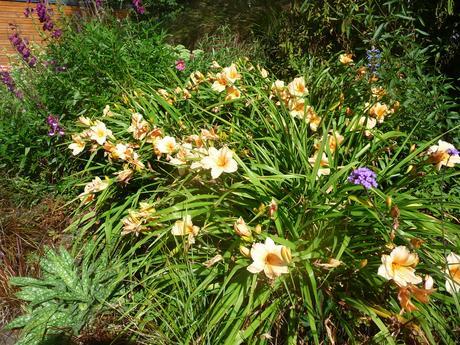 growth is everywhere and shrubs that were too small for their allocated space only a few years ago are now jostling for room with their neighbours!
'Gardens are never finished – they just keep evolving' - I keep telling myself this as I make decisions on what to leave and what to prune back, what to dig out and what to reprieve for one more year.
Perennials are easy to deal with and can be divided after they have flowered to reduce their size or to maintain their vigour. Clumps of Day Lilies which have flowered well in the garden for years have less flower stems emerging this year and this is usually a sign of the plants becoming congested, although I know I am pushing it trying to grow them in dry soil and shade! I have decided that they must and have donated the plants to a local nursery where they will make admirable stock plants!
Border Geraniums are simply cut down to size after the first flowering and fed and watered in the hope that they will produce further flushes of blooms. These easy plants love our shady back garden and do not sulk and withhold their flowers like the Day Lilies. We have plenty of varieties from the spring flowering Geranium phaeum 'Dusky Rose' to stalwarts of the summer border which include blue and white flowered 'Rosanne' – a real beauty that is so easy to please and keeps flowering until well into the autumn.
Crocosmia 'Lucifer' the South African Montbretia, also sulks in the shade and needs to be moved to our sunnier front garden but needs moist soil to do well. I love it for the sword shaped leaves and bright red flowers which top wiry stems in late summer. This plant went great guns in its present position for several years but now looks tired with only a few leaf clumps that look as if they will produce flowers. The encroaching Cotoneaster and Parrotia trees have shaded the area too much for their liking!
 Astrantia on the other hand loves the shade that this area produces and has seeded freely. These long lived perennials have fresh green leaves that create a cool feel to a moist shady spot and the flowers remind me of jellies with their wobbly centres. They are produced for months through the summer and are great dried for winter arrangements - cut fresh they last for weeks in a vase but don't smell good!
But it is the bully boy evergreens that really take the light from the garden and several of these are due for a drastic prune this year! The Arbutus unedo which copes admirably with strong winter winds had got enormous but now looks ugly where my husband pruned the front of it today. He has fed and watered the plant to encourage new growth and the plants 'round. about already look much happier.
A trip to the local green skip is in order I think!