I am a big fan of plants that have more than one interesting feature – scented leaves on an evergreen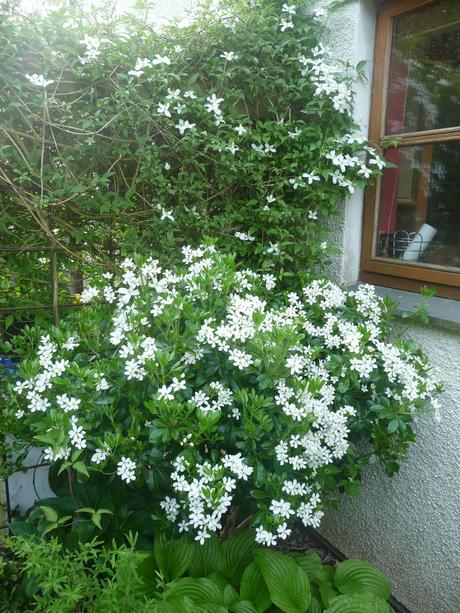 perhaps or attractive leaves through the growing season which also have vibrant autumn colours.
Some really are plants for all seasons. We have a Parrotia tree in the back garden - far too big for its allotted space – but I love it for several reasons. The glossy deep green leaves are a lovely feature from spring until autumn when they take on crimson and plum hues before falling to reveal mottled gray bark. Our plant flowered for the first time last winter, braving the windy weather to display pincushions of red flowers which hug the bare stems in January. The common name of Persian Ironwood is apt – the wood is very hard!
Coloured stemmed Dogwoods are another favorite of mine. These lovely shrubs always have something to shout about – naked stems in winter which are red or green depending on the variety, attractive wavy leaves through the growing season and spectacular autumn colours before they fall to reveal the striking stems once again. The flat white flower clusters in early summer are a showy addition to a shrubbery and are followed by blue-white berries. Cornus alba 'Aurea' lived happily in our garden for many years in a very dry spot, although they do prefer moist or wet soil and look great planted near water. It was unfortunately sacrificed for the new vegetable area but we still have the olive-green stemmed variety C. sericea 'Flaviramea' in the front garden. The branches glow in winter against a dark purple Phormium tenax 'Purpurea' and light the area again in early summer when they are full of white flowers for the bees.
With milder weather this winter, our Teucrium fruticans 'Azureum' has been undamaged and held its leathery leaves making a column of silver-grey on the trellis near the dining room. Semi-evergreen plants are usually unharmed here but unlike true evergreens I never worry if they do drop all of their leaves because of cold weather or strong winds. A quick prune, feed and water in spring soon has them shooting back to life and we have just hard pruned our plant to keep it in bounds. This plant just flowers and flowers and is always full of very contented bees!
Even the Alliums in the front garden get in on the double act. Their huge flower heads have been glistening silvery lilac balls for weeks, again full of bees which have done their work well. Bright green seed capsules can be seen now and the bleached out seed heads will look lovely amongst the Agapanthus and grasses which we have yet to enjoy. As well as adding a contemporary twist to the gravel garden I am hoping that the seeds will self sow and produce a colony – plants often place themselves much more pleasingly than we do as we worry about which colours and textures go together!