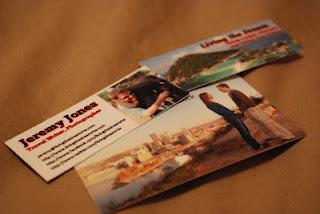 From time to time while running this website we have the opportunity to review travel products and accessories to share our opinion for our readers. Several of these products have turned out to redefine how we approach the topic in all of our future interactions and a select few of these items have become our personal favorites.  Our recent acquisition of MOO Business cards most definitely fits within this set, and after having the luxury of ordering multiple sets of cards in recent months, we will be using their product for many years to come.  The best part?  Our friends at MOO are letting us run a contest for three (3) lucky winners to each win a set of 100 custom business cards (and free international shipping)!
High Quality Every Time
After purchasing hundreds of business cards over the last few years in conjunction with this website and our recent book launch, the number one criteria we judge a business card on is its print quality.  If the card feels right in our hands, has a very professional and glossy print, and holds up after staying in a wallet or card holder for months on end, then we know it is a durable card worthy of our time and money.  After playing with both the full-sized MOO business cards and the adorably sized MOO Minis, we can easily say that both card types hold up to our strict attention to detail. 
To get to the point of holding a final product in your hand; however, the card must first be designed.  Luckily, MOO makes the entire feature as advanced or as simplistic as you want it to be.  Looking for a standard design?  Their design software can help you make it look great.  Have your own design?  The upload tool works like a charm and can have you from starting to checkout within a few minutes.  Having designed business cards in the past, we had our complete card design and order placed within minutes of starting and the final product matches the exact preview to minor detail.
But Also the Small Details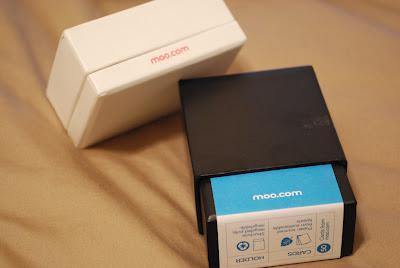 One of the most notable features of MOO cards to us is their attention to detail and love of product.  In previous cases of ordering business cards, our product was delivered in a standard mailing box without any additional protection other than the mailing box it was shipped in.   MOO Cards take this one step further and ship your cards in a specially labeled box that is unique to each size that is offered.  So while some of our business cards are still stored in the ugly mailing box for lack of any space other space to house them, MOO Cards took care of that and provided a stylish housing for our cards - easy to store and easy to transport.
Overall, our experience in ordering cards from MOO has been nothing but positive.  Their quality of product shows in the final product and will be our choice business card company for years to come.   We highly recommend you to check them out with your next business card design, or if you cannot wait that long, enter our contest below!
Contest - Win 100 Business Cards!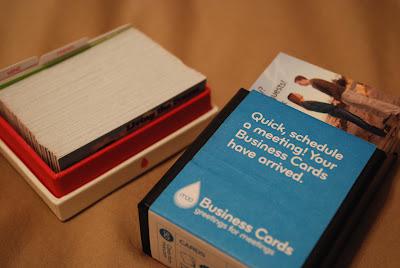 Thanks to our friends at MOO, we are hosting a contest to give away a set of 100 custom business cards (~$40 value) with free international shipping to three (3) lucky winners!  As we believe that MOO is the best custom business card company out right now, we are very excited to have this contest be open to everyone.
Business cards are especially great for travel bloggers as they can house all the information about your blog and social networking profiles on one easy to distribute card.  If it were not for our business cards, several friends we met on the road would not have been able to find us later on, something that is quite regrettable when looking back on it. 
To make the contest easy for everyone to enter, we are using the Rafflecopter program to giveaway the business cards to three lucky winners and are giving you many great ways to enter!   Click the category on the program below and perform the entry requirement to gain the respective number of entry points.  At the end of the contest (April 10th at 12:01 am EST), Rafflecopter will randomly draw three winners based on all eligible entries.
Note: Be sure to complete the prompts via the Rafflecopter program below to record your entry.  Attempts to enter without verifying on the program below will result in your entry being being excluded from the pool.  You do not have to be a travel blogger to enter and the cards can be used for business or personal use.
Many Ways to Enter
Leave a comment on this post - 1 entry
Tweet information about this post - 2 entries
Follow Living the Dream on Twitter - 3 entries
Follow MOO Cards on Twitter - 3 entries
'Like' Living the Dream on Facebook - 5 entries
'Like' MOO Cards on Facebook - 5 entries
Subscribe to our Blog RSS Feed - 10 entries!
With only a few moments of your time, you can obtain up to 29 entries into this competition, increasing your odds of winning substantially!  The best part, you don't have to do all of them if you do not wish.  Pick your favorites and enter by completing the task and clicking the prompt on the program below. 
a Rafflecopter giveaway <a href="http://rafl.es/enable-js">You need javascript enabled to see this giveaway</a>.

Disclosure notice: We were provided a complimentary set of business cards from MOO.com for this review and giveaway.  The MOO Mini cards that were discussed in this post were acquired on our own via external sources. The views expressed in this review and contest are our own and represent our personal opinion on the product.