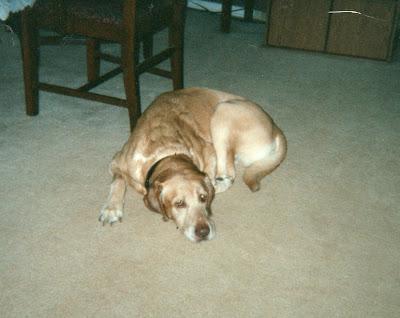 Wilson's Homer Boy...AKA Buddy
One day about eleven years ago my husband and I went to check out some yellow lab puppies.  We had every intention of getting a three or four month old puppy, but when we arrived, a sixteen month old yellow lab pulled on our heart strings.   After much debate, we decided on the sixteen month old yellow lab.
He had been raised in a pen and  had never been shown much love or affection.  All he new were the other dogs that were living in his pen,  but he seemed eager to go with us.  When we arrived at our home the newness of our place scared him to death.  He was so afraid of everything and, bless his heart, did not even know his own name.  He spent three days in our spare room, not eating, not drinking, not even going to the bathroom.  We were just about at our wits end and thought we might have to take him back.  We continued to talk to him and finally did coax him out of the spare room and into drinking some water.
He finally began to eat and go out and go to the bathroom, but he was still scared to death.  When he did come out of the spare room and try to join us, even the volume of the television changing would send him back into the spare room with his tail tucked between his legs.  Our place was carpeted and if he stepped on the linoleum in the kitchen, the sound of his toenails hitting the floor scared him to death.  The rustle of a garbage bag being changed would send him running in fear.  We were afraid he was going to stay a very nervous and timid dog.
After several months though, he did come around.  We lived at the lake and he grew to love us, and the lake.  He would spend hours chasing his ball as we threw it into the water from our dock.  (He was very popular with the area boaters, they would often stop just to watch him play his game of retrieval.)  When the kids were visiting and swimming he would swim with them.  He loved the water, he loved the boat, and he loved our attention and affection.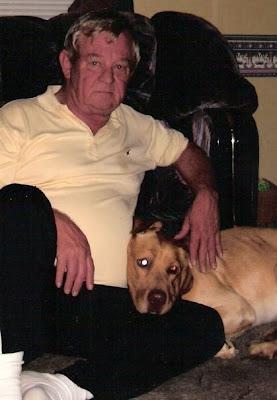 Bobby and Buddy
He was the smartest dog I have ever owned.  He was a devoted friend, an avid protector, and an adored pet.
We lost this precious part of our life on Monday, and it is hard to even be at home.  I never dreamed you could miss an animal as much as I miss him.
He had become such a huge part of our family.  Everyone that met him loved him.   He would always meet me at the door.  He adored Bobby.  He took every step that Bobby took and waited patiently at the door if he was gone until his return.  He loved the kids and the grand kids and enjoyed playing ball with them.  His pleasure was pleasing us.
He was born Wilson's Homer Boy, but he was Buddy to us.
God Bless you Buddy, you are missed by everyone in our family( your pals Scooter and Sissy miss you too)
Thank you for all your years of devotion.  Rest in peace dear friend.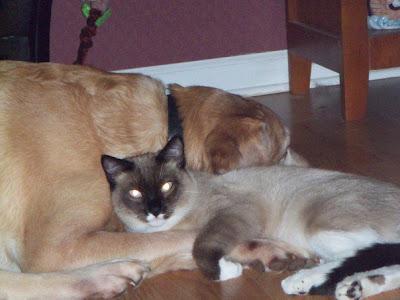 Best of Friends
Buddy and Scooter