If Willis Earl Beal's debut record, Acousmatic Sorcery, was a totem of explicit and jarring outsider music, then its follow up Nobody knows. is Beal's mercantilist buyout, in which studio sessions elevate him to the tasteless heights of mainstream indie, never to be recognized by the likes of Pitchfork Media again. Which is to say: neither album is a particularly good example of either of these supposed tropes. Acousmatic Sorcery was a calculated effort in outsider art, its laptop microphone style recordings a deliberate machination, not the recordings of Daniel Johnston 2.0. Likewise, Nobody knows. is probably exactly the kind of thing Beal intended Acousmatic Sorcery to lead him towards; for all his talk of outsider intentions, its Beal's subtle twists on the mainstream that seem to be the talented singer's wheelhouse.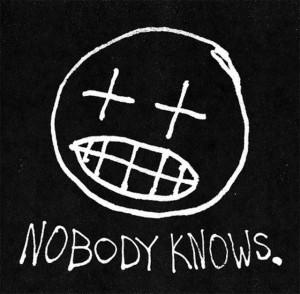 Nobody knows.'s much lauded opener "Wavering Lines" reintroduces us to a new, more explicitly bluesy Beal, with an acapella introduction that descends into a brief flirtation with sparse (though overproduced) chamber pop. Is it wrong for me to want the strings on Nobody knows. to sound more like those of Smog's Wild Nothing? The studio brightness works startlingly well on the fairly dopey, Chan Marshall featuring "Coming Through". There's an Otis Redding element to the song's proclamative nature that I find fairly appealing, if a little conventional. "Too Dry to Cry", conversely, has something of a cleaned up TV on the Radio vibe, but even if Beal has the vocal chops, he can't seem to match their ability to let loose in a dynamic sense. Beal could front Wolf Parade, and Beal could sing Bowie; his natural proclivity towards radio smoothness would keep him out of band like Pavement (who seemed to be a legitimate influence on his earlier songwriting).
There are aspects of Acousmatic Sorcery that will be missed on Nobody knows., first and foremost being the songwriting. Nobody knows. doesn't have anything like the early Weezer via a flophouse song "Evening's Kiss", instead relying a little too heavily on Beal's voice and his lyrics to convey emotion. It's not that Beal has any difficulty sounding emotionally convincing, as the chilling "Burning Bridges" is a testament to, but there is something to be said for the unsubtle vulnerability of Acousmatic Sorcery – exhibited mostly by poorly recorded guitars – that seems to be missing from Nobody knows.
Beal's love for the likes of Tom Waits is obvious, and is exemplified by his use of cabaret instruments and obsession with the pains and pangs of the wandering loner. Sometimes this energy translates strangely (and this is only an observation, not a complaint) into a sound not dissimilar to the "symphonic" indie rock groups that dominated the first decade of this millennium. The solemn chamber weavings of "Blue Escape", for example, sound a lot like those of Canadian indie pop act Stars. The big difference is Beal's voice; it's not exactly unique, and perhaps a little too perfect, but it's also perfectly suited to these environments that Beal has weaved around himself. And such could be said for Nobody knows. as well: it's a little too perfect (or at least takes too few production risks) and not exactly unique. Beal sounds as comfortable here as he did on Acousmatic Sorcery, and I hope this translates into a chameleonic career, rather than more of the same.

3.5/5 bars