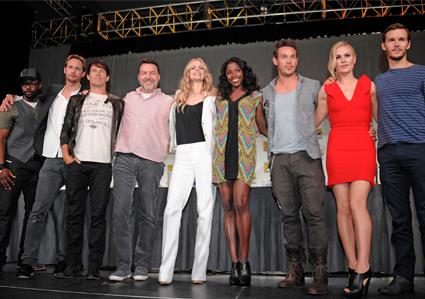 The question on everyone's mind at Comic-Con was: will there be a shower scene and how closely will it follow the book? Alan Ball's response:
"There will be a moment where Sookie (Anna Paquin) and Eric (Alexander Skarsgård) are together in the shower. But it may be weirder and dirtier than the one in the book."
Weirder and dirtier? Well we should expect nothing less from True Blood. Who wants clean and normal? Ball also commented on Season 5 and promises that there will be a male/female strip club. Ball also said that at the strip club there would be "a completely different twisted supernatural aspect".
Sam (Sam Trammell) and Tara (Rutina Wesley) were asked by fans if there is any hope of them getting back together or is their romance over? Ball's response was evasive: "Nothing is ever done on this show." Something we all know to be true on True Blood.
We will also get to see how Eric made his progeny Pam (Kristin Bauer) next season, something many fans have been waiting a long time to see.
The Comic-Con crowd got a sneak peak at a trailer for the rest of Season 4. It ends with Sookie lying on the ground in a graveyard bleeding from the stomach. A million questions rush through one's head after seeing it, but we shall just have to wait until next Sunday and the Sunday after that…
Alan Ball did make a rather mysterious statement about Sookie and her Fairy heritage:
"For those who read the books, you know that fairies are born in litters and are identical."
Does this mean we will be seeing more of Claudine in some way?
Many of us have been wondering, why haven't we seen more naked Sookie? Ball's answer:
"She takes her clothes off all the time."
Thank goodness, because a naked Sookie usually means there is a naked vampire!
Were any of you lucky enough to attend the panel?  Share your experience with us in the comment section!
Source: E! Online – Will Eric & Sookie Get Their Infamous Shower Scene? Comic-Con Delivers True Blood Answers!
(Photo credit: AP Photo/Denis Poroy)