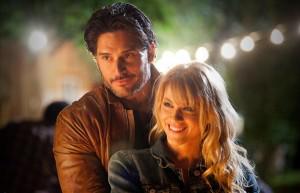 It's the burning question on the minds of many True Blood fans – What made Alcide take the previously crazy and drug addicted Debbie back? Joe Manganiello recently spoke to Digital Spy about his character Alcide and what's going on with his relationship with Debbie (Brit Morgan).
After extensive character research, Manganiello discovered that real wolves actually secrete a chemical that ties into mating for life.
"So I thought about that, and I thought about how difficult it must be for them to separate. And also growing up as a werewolf and living hidden from society, you can't open up to normal people. You couldn't just go out on a date with a human girl and tell her who you were unless you were really sure."
Sounds like a tough situation Joe, we agree. But what about all of the heartache and pain Debbie caused Alcide in Season 3? Joe explained:
"Debbie's obviously tried to make amends for her past transgressions and done so in such a convincing manner that Alcide would give her another shot. So obviously only time will tell how good of a job she does, or how consistent of a job she does."
Do you think Alcide and Debbie will last? Let us know in the comment section below!
Source: www.digitalspy.com- 'True Blood' Joe Manganiello explains Alcide, Debbie relationship
(Photo Credit: HBO, Inc.)