Tiger Woods has been the target of a golf media thashing for two years and frankly I would prefer to concentrate this golf blog on his debut "form" and career objectives rather than on his latest "unprofessional" slamming by Hank Haney. 
Was Haney justified in releasing a
Tiger Woods
 "tell-all"
book, "
The Big Miss
",
just prior to Woods' first appearance? Sixty-six percent of fans who were asked said "No". 
That being said, the 2012 golf season is taking on momentum and Woods will be making his debut this week in
Abu Dhabi
at the HSBC Golf Championship. The stage for a Woods return was unofficially set in December when Tiger walked away with his first win in two years at the Chevron World Challenge.
Tiger Woods believes, however, that it was in Australia where he gained his greatest confidence, "Australia was big. I hit so many good shots, especially when the wind was howling at thirty mph, with gusts at more than that," and confidence is key to forging ahead.
Woods also claims that he is the fittest he has been at the start of a golf season in a "long, long time" and is excited to be competing alongside of up-and-coming players (and first round playing partners)
Rory McIlroy
and Luke Donald. Does Tiger Woods feels it necessary to test himself against the "new generation" to see if/that he can "rise again, like a phoenix from the ashes of his former self?
Ultimately, Woods is focused primarily on winning the majors and using the remainder of the events he will play in as "tune-ups'. Tiger confirmed, "Ultimately, I want to have my game peak four times a year."
At least he's dancing... 
 one of his New Year resolutions?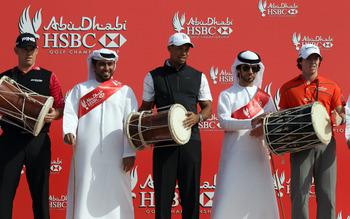 Get to know Tiger Woods a little better on Friday; he'll be answering questions on his Twitter feed @TigerWoods... should cause Twitter to burst at the seams. 
Voice your opinions on Tiger Woods on Twitter @Golf4Beginners and friend on Facebook
********
I would like to share with you the press release I received along with the above Getty Image:
TIGER MOVES TO HSBC'S ABU DHABI BEAT
Golfing Giants Get Traditional With Emirati Ayala Dance
Abu Dhabi, UAE. Tuesday 24th January, 2012:
He's been in Abu Dhabi for less than 24 hours, but Tiger Woods - one of the headline attractions at this week's Abu Dhabi HSBC Golf Championship, which starts tomorrow (Thursday 26 January) – wowed onlookers at Abu Dhabi Golf Club today as he shook off the trans-Atlantic cobwebs and 'moved' to the UAE capital's distinctive traditional beat.
Abu Dhabi debutant, Woods, an eye-catching contender in what is the strongest field ever assembled at a Middle East tournament, was joined by world numbers two and three, Lee Westwood and Rory McIlroy, for an impromptu celebration of traditional Emirati ayala (celebration) dancing on his first National Course appearance.
 "That was pretty special," said Woods, a 14-time Major winner. "It's my first time in Abu Dhabi and although as golfers we are used to traveling all over the world, we don't usually get welcomes like that. It's always fantastic to experience new cultures and traditions and I really got into the ayala beat; I'm not sure the canes would be too good on the putting greens this week though."
The ayala dance celebration officially ushered in the seventh annual Abu Dhabi HSBC Golf Championship, which will see triple and defending champion, Martin Kaymer, lock horns with Woods, Westwood and McIlroy, as well as world number one, Luke Donald, in the hunt for the Falcon trophy. Reigning Major champions, Charl Schwartzel (US Masters) and Darren Clarke (The Open), Australian hot-shot, Jason Day, Korea's top ranked player, KJ Choi, Spain's Sergio Garcia and Ireland's Padraig Harrington are also in the star studded line-up.
********