Amy Olson is still chasing her first major accolade since turning pro in 2013, but the grit she put on display amid difficult circumstances, including a heartbreaking loss, really is the stuff of champions and there's little doubting how bright the future could be.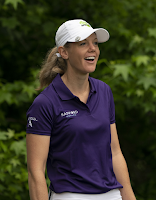 The 28-year-old tied for second place in the recently culminated U.S. Women's Open, coming in behind A Lim Kim. But it hardly felt like a loss considering the dire circumstances. One might have been fooled into thinking she'd come out on top after she sank a birdie putt on the 18th hole of the final round, given her reaction.
Amy pumped her fists into the air before removing her ball from the cup and looking to the sky. The tears streamed down her face as she found another moment to mourn the loss of her father-in-law at the end of what was a very challenging journey . Two days before, she had been informed that her husband's father, Lee Olson, had passed away unexpectedly. Many questioned whether she would be able to continue the tournament but, continue she did, although she would have been forgiven for calling it quits and packing up.
The North Dakota native finished 2 under, one stroke back from Kim.
"Coming out this morning, I had no idea what to expect," she told reporters after her round. "I felt very weak and helpless for the last couple of days. ... I really believe the Lord just carried me through. It makes you realize how much bigger life is than golf."
Olson said the words of the song "You Raise Me Up" played through her mind with every swing.
Having shot an even-par 71 two days prior, she went into the final round a single stroke ahead of Hinako Shibuno. The weather in Houston made it difficult for all of the participants, with muddy conditions presenting a struggle to find pars. Olson, though, fought through it. And, despite making two bogeys in her first six holes to drop down the leaderboard, she didn't waver. The mud balls made it so that every single shot was a painstaking affair yet, by the end of the day, she was still in contention for a first LPGA Tour win.
As muddy as the balls were, as frustrating as the strokes became as a result, Olson found out that they were all minor as she would receive some terrible news in the wake. When she showed up with her caddie the following day, news of the passing of her father-in-law was already rife around the course, with people harboring doubts over whether she would still be able to compete. Heavy rain caused play to be suspended, seeing to the first U.S. Women's Open finish due to the weather in nine years.
The weather could continue to pose difficulty for the upcoming tournaments, with the PGA Tour's Tournament of Champions set for next month. Sportsbookreview will have you covered in terms of golf updates should things change on that front.
Questions over Amy's participation continued to swirl and the speculation intensified after her husband was reported to have returned home.
Amy and Grant Olson tied the knot in North Dakota in 2017 after meeting in college at North Dakota State. Both of them remain the most decorated athletes in uni's history. Grant is now a linebacker coach at his alma mater.
The former football player went to Houston to support his wife but was forced to leave her after the news of his dad's passing - his mother and brother needed him a lot more. Amy said she had a "special relationship" with Lee, who had a "particular soft spot for the women in his life, particularly his wife and daughter in law."
Fighting through the indescribable struggle one goes through after losing a loved one, Amy showed up again on Monday to tee off, showing remarkable resilience in her 18 holes. After three bogeys in four holes, Amy hit back-to-back birdies that helped her lead all chasers for hours. A bogey on the 16th hole set her back, however.
When she dropped that putt in the 18th hole, the ordeal was over and it showed. In spite of her loss, she must have been relieved to put the tourney behind her after digging deep and giving everything she had.
In those final hours, Amy showed the will and the spirit that only a precious few athletes could claim to call on in difficult times. She will probably look back on the competition as the most challenging of her career but it's also one from which she learned a whole lot about herself.
"I knew I had to stay very mentally disciplined just to get through the day," she said afterward. "I allowed myself to think about what I'm grateful for, and I've got a long list.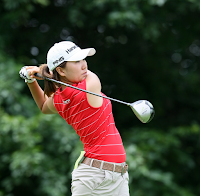 It did appear that Amy was poised to win her first golf tournament but, following that last bogey and Kim's birdies in the final three holes, the latter's victory was all but sealed and made all the more impressive by the fact that this was her first major championship appearance .
Amy's strong finish, though, was just as monumental.
Photo Credit: Wikipedia, Wikimedia Commons