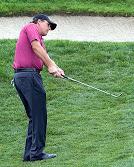 There was a time in the annals golf history when every fan and media outlet jokingly referred to Phil Mickelson as one of the only top tour players to never have won a major. Lefty has now come full circle and added a title that is one for the record books that may stand for quite some time - the "OLDEST golfer to have won a major" with his victory at the 2021 PGA Championship in my home state of South Carolina.
Mickelson's first major championship win at The Masters 2004 came during his thirteenth year on the PGA Tour and, although he won PGA tournaments like the 1996 Byron Nelson Golf Classic, his eyes were on the elite of championships which has confounded him. Phil's last major win came at the Muirfield 2013 Open and time seems to have stopped since then while Lefty battled with physical maladies.
The one major tournament which has eluded Mickelson's grasp to date is the U.S. Open. With 29 appearances, the heartbreak is painful for Phil who considered not playing in the 2021 U.S. Open but finally giving it one more college try by recently accepting a special exemption to the event.
"Winning the U.S. Open has been a lifelong and elusive dream, and I've come close so many times," Mickelson said. "You can't win if you don't play. I'm honored and appreciative of the USGA for the opportunity and look forward to playing in my hometown on a golf course I grew up on."
Perhaps Mickelson has found his groove with a combination of diet and exercise changes designed to enhance his mental and physical prowess.
This week, it appears that the former "fun" Phil Mickelson who took wild and crazy chances had been replaced by a safe and strategy-oriented golfer...and the results proved themselves as Lefty wound up lifting the Wanamaker trophy.
As the next chapter of Mickelson's career gains momentum from a rockstar win at the 2021 PGA Championship, Golf for Beginners looks forward to reporting a win for Mickelson at his hometown golf course at the U.S. Open.
Photo: Wikipedia