Outside of Istanbul, Moscow is the largest city in Europe. In past years one could see signs, posters, and expressions of various views all over the city. That began to change with the government crackdown in 2010 after the rigged Duma (parliament) elections.
Then came the rigged elections of 2012, a contest in which the winner didn't need to cheat, so it was kind of senseless that he did anyway, and the government became even more hardline with the disruption of independent media and crackdowns on opposition speech.
Today, signs and posters that disagree with official views are taken down quickly. If the police can find the one who posted them, arrests are made. However, signs and posters that agree with the Kremlin fascist views are tolerated, and often even celebrated.
Yesterday, an "acquaintance" whom shall remain unnamed for obvious reasons, took this photo of posters that have begun to appear around Metro stations. This one came from a tent that had been erected near Metro Tretyakovskaya, near the famous Tretyakov Art Gallery.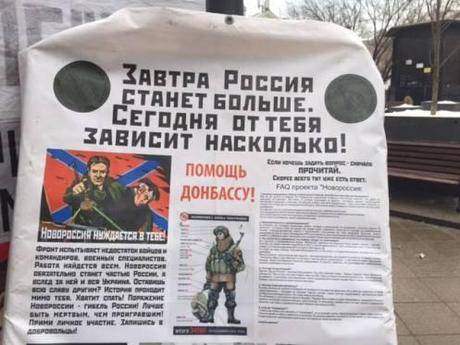 In case your Russian is not that good yet, it reads:
Завтра Россия станет больше.
Сегодня от тебя зависит насколько.
Помощь донбассу.
This translates as "Tomorrow Russia will be larger. Today, that effort depends on you!
Help Donbass" (the pro-Russian terrorists fighting Ukraine).
Germany and France have sold Ukraine down the river in order to protect their own economies.The "Minsk-2″ agreement is nothing more than a lull in the fighting. As soon as the Germans, French and other cowards have pulled back sanctions and negotiated for lower gas prices, Mr. Putin will be back on the offensive. This war in Ukraine is not even close to being finished.
Until forced to stop, Russia will continue to expand at the expense of smaller countries that suffered for decades under Soviet domination.