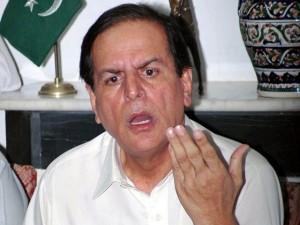 Pakistan Tehreek-i-Insaf leader Makhdoom Javed Hashmi has said that he will encounter former President General (Retd) Pervez Musharraf in public court. He said that if the former military ruler scampered, he will be behind him holding the stick. .
While addressing to media after the completion of scrutiny of his nomination papers from NA-48 constituency of Islamabad, Hashmi said the silence of PML-N upon the arrival of Musharraf has made him very disappointed, adding the former president broken constitution and he will expose his real face in public.
He claimed that 20 ex-MNAs of PML-N had expressed the willingness to join PTI but the party refused to accept them.
On the question about the authenticity of his academic certificates and NAB clearance, Hashmi said that his degrees are real and NAB's clearance certificate will be attached with his nomination papers.