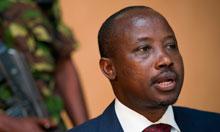 (PHOTO: Jean-Marie Runiga,
Bishop-Preacher of M23 bandits and looters)
***
To those--including the IGLR heads of state at Kampala Saturday--who
still believe M23 insurgents are rebels with some kind of cause other
than thieving, looting, and pillaging, this report filed from Goma
today by the Guardian's Pete Jones and titled "Congo rebels surround
central bank in Goma" should give pause.
The report reads in part:
"Congo rebels surround central bank in Goma M23 seen entering bank and
loading bags into cars after refusing to withdraw from city
"Congo rebels appeared to be looting the central bank in Goma after
refusing to withdraw from the city they captured last week .
"M23 fighters surrounded the bank early this afternoon and were seen
loading white bags into cars. The armed rebels looked nervous and
ordered the Guardian to leave the area.
"'They're looting the bank,' a UN
source said."
(Source:
m.guardiannews.com/world/2012/nov/27/congo-rebels-defy-order-goma
)
Well, Congo Central Bank authorities told the media in Kinshasa this
afternoon that serial numbers of all unused bills of Congolese Francs
at Goma branch are marked down and no one would ever be able to make
bulk purchases with those notes anywhere in the territory of the DRC.
Besides the looting at the bank, several dozens of official and
private vehicles have also been commandeered by M23 insurgents and
sent to Rwanda.
***
PHOTO CREDITS: Phil Moore/AFP/Getty Images
Via:
www.guardiannews.com