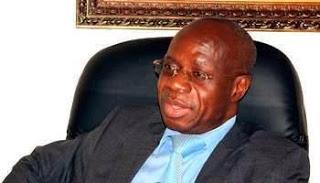 (PHOTO: Albert Yuma Mulimbi, Chair of DRC Chamber of Commerce, CEO of state mining giant GECAMINES, and chief auditor of the Central Bank)
***
This year seems to have opened yet another long season of the seemingly never-ending political uncertainties in the DRC--though this season is peculiar in that much of the bigger uncertainties are coming from within the very own camp of President Joseph Kabila.
To be sure, a cloud of uncertainty hangs over the still pending so-called "national cohesion government" that was slated to come out of the much-vaunted "National Consultations"--which were boycotted by a number of opposition parties, including Etienne Tshisekedi's "Union pour la Démocratie et le Progrès Social" (UDPS), Vital Kamerhe's "Union pour la Nation Congolaise" (UNC), and MP Martin Fayulu's "Engagement pour la Citoyenneté et le Développement" (ECiDé).
But some other opposition elements saw those national consultations as a springboard for political rebirth and were consequently accused by radical oppositionists as opportunists scrambling for personal financial gains.
Especially, these critics were quick to point out, as the siren call was sounded by none other than Senate President and National Consultations Presidium co-chair, Sen. Léon Kengo wa Dondo himself--a political master contortionist who'd bent himself in every conceivable position from the dawn of his political career in the heyday of the Mobutu dictatorship down to his very enviable current position in the Kabila regime.
Last year, even before the opening of the National Consultations, Kengo had assured hungry sharks waiting in the wings in the opposition and in front of cameras of the national television that a new government of "national cohesion" would necessarily issue from those proceedings.
In the meantime, a very embarrassed MP Fayulu, a hardline contradictor of the regime and an ally of Vital Kamerhe, took the extraordinary step of suspending from ECiDé one of its rising stars, Serge Welo, who'd turned up without his party's credentials at the National Consultations as the self-appointed "representative of the diaspora." 
And lately while Fayulu has been undertaking the lame crusade to garner citizens' signatures for a petition to oust Apollinaire Malumalu from the chairmanship of the national electoral commission, Kamerhe on his part has embarked on a likewise fruitless solo off-season electioneering in the Kivu.
Much lot of good both ventures have done them! Both men are instead seen as self-serving pols and the faction of the opposition they represent as listless.
Running true to form, however, Sen. Kengo has just came out this Wednesday, February 19 with a mega political platform called "Opposition Républicaine" (OR) corralling more than 30 opposition political parties--a feat that makes some pundits wager he may be either the next Prime Minister or at the very least the "informateur" or headhunter of the upcoming cabinet.
So forget the antics of drama-queen Kamerhe! The most interesting thing to watch these days is the deadly no-holds-barred power struggle being played out within Kabila's Majorité Présidentielle (MP).
On Thursday, January 30, 2014 this bloody fratricidal power struggle that was being waged behind closed doors broke out in the open at the Grand Hotel in Kinshasa. But prior to that date, there was the ever widening rift between Prime Minister Matata Ponyo--hated within the MP for allegedly effectively plugging money leaks--and Deputy PM and Budget Minister Daniel Mukoko Samba.
Anyway, the frontal attack against PM Matata was unleashed in the evening of January 30 at Kinshasa Grand Hotel by Albert Yuma, the influential president of Fédération des Entreprises du Congo (FEC), the national Chamber of Commerce; CEO of the mining giant GECAMINES; and a pro-Kabila stalwart. 
Taking advantage of his speech at the traditional Christmas and New Year greetings to business operators and to the Congolese people, with Mukoko Samba in attendance, Yuma blasted the economic program of Matata--accusing the prime minister of managing the country "like a neighborhood drugstore."
Yuma then went on to deliver a blistering anaphora worthy of some of the great oratorial moments of François Hollande, who relishes this rhetorical device:
"As for the profiles of the candidates for the upcoming government, the FEC expects that they be women and men who share the vision of the President of the Republic of never betraying the Congo and whose loyalty toward the country and its leader won't be circumstantial; women and men who will be vectors of national unity and concord and not of exclusion and sectarianism; women and men who will ensure that the state is managed in an impartial and impersonal fashion; women and men competent in the fields they will be performing in, on the basis of verifiably successful past experience, and who will be accountable of their achievement; women and men who will be aware that entering into government is a sacrifice, and why not a priesthood in the service of other people, underpinned by flawless morality; women and men who will come out indiscriminatelyfrom all the provinces of the country, with the common goal of teamwork in order to address the challenge of self-reliant development of the DRC with a bold prospective vision; finally, women and men who, everyday, as they carry out their duties, will have in mind the motto of the country: Justice-Peace-Work."
Wow! Impressive piece of rhetoric Yuma delivered there--but it is just that: empty rhetoric!
In fact, the brilliant piece of oratory proffered by Yuma sounds eerie and creepy if you read it against the background of instances of his malevolent governance at the helm of GECAMINES, as documented by Global Witness.
For instance, on October 18, 2013, Global Witness published a press release titled "Secretive plans to sell a lucrative Congolese mining asset raise further Congo corruption concerns."
From the press release:
"New reports indicate that the Democratic Republic of Congo's state-owned mining company, Gécamines, is in an advanced stage of negotiations to sell its stake in a lucrative copper mine without informing the Congolese Ministry of Mines. If true, this would follow a pattern of opaque deals in Congo mining sector giving rise to concerns about poor value for money and possible corruption, said Global Witness today.
Bloomberg has reported on the potential deal today involving the transfer of ownership of 20% of Kamoto Copper Co (KCC), which is set to become the country's top producing copper mine next year. Bloomberg cited evidence that the Ministry of Mines had not been informed of the sale."
(http://www.globalwitness.org/library/secretive-plans-sell-lucrative-congolese-mining-asset-raise-further-congo-corruption)
In other words, Yuma needs to first clean his own house (and act) before accusing others!
***
PHOTO CREDITS: Photo by Baudouin Muanda, jeuneafrique.com