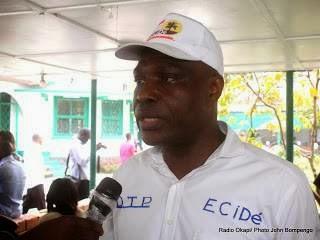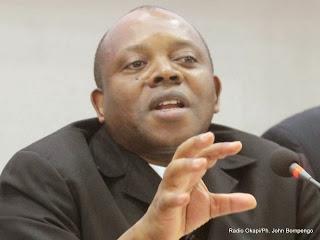 PHOTO 1: MP Martin Fayulu, chairman of the political party ECiDé (Engagement pour la Citoyenneté et le Développement)
***
PHOTO 2: Fr. Apollinaire Malumalu, Chair of the National Independent Electoral Commission (CENI)
***
Yesterday in the early afternoon, at the populous Kinshasa square of "Rond-Point Ngaba," MP Martin Fayulu, the head of ECiDé, and some of his party activists donning white bibs with "Sauvons la RDC" [Let's Save the DRC] painted in blue letters on them were nabbed by cops as they were calling on citizens to sign their petition to oust the chairman of CENI, Fr. Apollinaire Malumalu.
(The political platform "Sauvons la RDC" was launched in Kinshasa by Fayulu and Vital Kamerhe on November 18, 2013 with the outlandish goal of being the "policeman of the democratization in the DRC.")
The group was detained before being released in the evening, with the ever-defiant Kinshasa lawmaker vowing "to continue to have the petition signed." 
This wasn't the first time that activists of the platform "Sauvons la RDC" have been arrested lately in Kinshasa squares for garnering citizens' signatures for their anti-Malumalu petition. 
On February 18, the platform activists were arrested at Kintambo/Magasin square and the documents bearing the 600 signatures on their petition secured that day confiscated.
No one knows what MP Fayulu is planning on achieving with his petition to force Malumalu out.
As a matter-of-fact, on the subject of petitions, the Constitution is vague, stating in its Article 27:
"All Congolese have the right, individually or collectively, to submit a petition to the public authority which responds to it within three months.
"No one may be subject to discrimination in any form whatsoever for having taken such an initiative."
Besides, the Constitution doesn't spell out to which "public authority" one is supposed to take their petition. Nor is there a threshold at which a response is mandated from the unnamed "public authority."
That's why some people are calling Fayulu's anti-Malumalu petition drive a frivolous stunt or an outright fool's errand. Others are advising that Fayulu takes his quest directly to the National Assembly, the body to which he's a member and which can impeach Malumalu.
In any event, Fayulu launched his fierce campaign against Malumalu shortly after January 31, the date on which the CENI chair went to the National Assembly to deliver his "election roadmap" of the electoral cycle 2013-2016--a roadmap which is not to be confused with an "election calendar," as he now keeps insisting.
(MP Fayulu and other opposition leaders walked out of the National Assembly hemicycle when Malumalu was presenting his election roadmap.)
Malumalu's roadmap included the following two controversial "hypotheses" whose adoption would require amending some provisions of the Constitution:
1) Given financial constraints and the electoral backlog at the level of municipal and local elected offices dating as far back as 2006, Malumalu proposed that direct suffrage be held for municipal and local elections (2014-2015). Then afterward indirect suffrage could be organized for the election of provincial deputies, senators, communal burgomasters, governors, mayors and city councillors. After which, direct suffrage will then be held for legislative and presidential elections in 2016.
2) Hold direct suffrage elections of provincial deputies, national MPs, and president of the republic in 2016. Then, in 2017, organize indirect suffrage to elect senators, governors, and lieutenant-governors.
It's somewhat strange that Fayulu is opposing local elections on the grounds that they would exacerbate communal and ethnic tensions!
It's also certain that in the quite unlikely event of Malumalu's impeachment, any other person who'd be designated by the pro-Kabila majority in parliament to chair CENI will be preemptively accused of rigging.
Fayulu has just done that with his petition. On Twitter, he also accused Malumalu of nefarious intentions when the latter appointed his cabinet members.
@MartinFayulu tweeted in French on February 8:
"Mr. Malumalu has appointed his cronies at the helm of the national executive secretariat of the electoral commission (...) to gear up for fraud."
Nothing new here, after all, DRC politics is often fraught with insults, slanders, libelous imputations... and stubborn refusals to accept election results!
***
PHOTO CREDITS: Photos 1 & 2 by John Bompengo via radiookapi.net