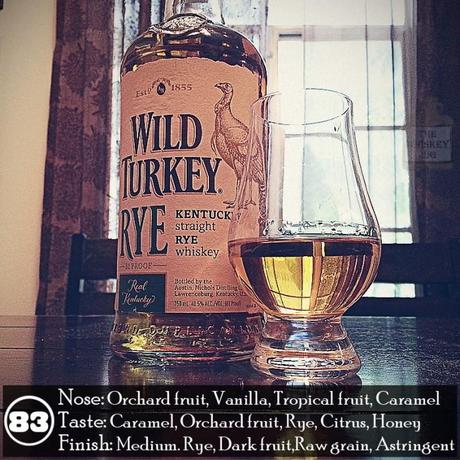 Wild Turkey 81 Proof Rye is great for mixing cocktails. That's not a put down, it's just the truth. For having such a high quantity of rye (65% vs the 51% of many ryes on the market now) the rye notes are strangely muted in the nose and not nearly as assertive on the palate as I was expecting them to be. Which is kind of a shame because that spicy rye kick is a major reason the rye 101 is so damn good.
Truth be told I feel a bit bad for the 81 because it's bigger and, as already stated, more delicious brother the Rye 101 stole the scene before 81 really truly arrived. Then, soon after the 101 left the scene the Russell's Reserve rye showed up in a big way and once again stole the show. These amazing products are unfortunately what this poor guy is always going to be measured against and while it might seem a bit unfair, that's just the way the barrel tumbles.
Overall this isn't my favorite rye, but it's also not my least favorite rye. It's sweet, kinda fruity and the rye spice just doesn't hit as hard as I'd expect for something with this heavy of a rye content. Like it's 81 proof bourbon brother, drinking neat just isn't it's strong suite. However cocktails are another story and that's where this Tom really struts it's stuff. The WT 81 Rye knocks it out of the park when it comes to mixing up something tasty, especially in classic cocktails like a Sazerac, Manhattan or Old Fashioned. Which means really, you have nothing to loose with trying a bottle because the worst case scenario is that, like me, you don't care for it neat and end up making some killer cocktails instead. Which, as far as endings go, ain't too bad.
Wild Turkey Rye 81 Review
ABV: 40.5%
Age: 4 years
Price: $24*
Distiller: Austin, Nichols Distilling Company
Mash: 65% rye, 23% corn, and 12% malted barley
EYE
Light amber almost gold
NOSE
Strangely fruity nose that starts out with orchard fruit, vanilla, sugary tropical fruit and caramel. The rye spice is tragically low on the nose and there is a slight floral characteristic that haunts the background along with an underriding note I can only describe as "Skittles". Interesting.
TASTE
Caramel followed by orchard fruit and a decent dose of rye spice. What it lacked on the nose it made up for on the palate in the rye category. Following the rye's triumphant return are notes of citrus, honey, raw grains and a touch of wood come waltzing through.
BALANCE, BODY & FEEL
A bit off balanced with flavors coming and going and sweet and savory being at odds with each other. A thin and watery body mix with a flaxen feel to create a less-than-exuberant, but far from unpleasant, experience.
FINISH
A medium finish of rye spice, dark fruit, raw grain and a mild astringency that perks up towards the end.
SCORE: 83/100
*This bottle was graciously provided by Wild Turkey's PR team for the purposes of this review
The post Wild Turkey Rye 81 Review appeared first on The Whiskey Jug