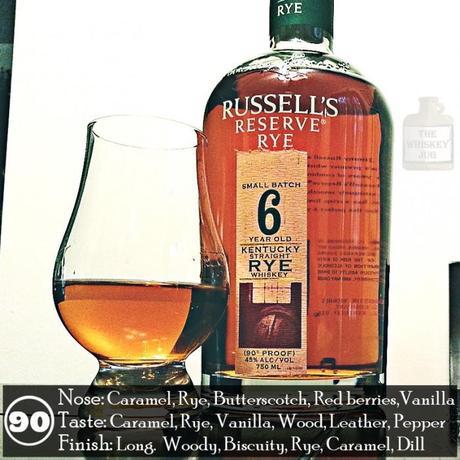 The Russell's Reserve Rye is the same mashbill as the 81 proof version, but the 6 year is made from stock that is about 2 years older and is bottled at 9 proof higher… and what a difference 2 years and 9 proof makes. This isn't a good rye, it's a great rye.
To be completely honest the existence of the Russell's Rye makes buying the WT Rye 81 a difficult thing to do. This little gem is only about $9 more and packs at least $20 more flavor and versatility into the glass. I had the good fortune to try it side-by-side with a freshly opened bottle of the original Rye 101 and besides deciding that I scored the 101 too low I realized just how close it is to that amazing whiskey.
I also realized how much time I've wasted bitching about the R101 not being widely available anymore when this was right in front of me almost the whole time. I'm sure there's a life lesson buried in there somewhere, but right now I'm too busy enjoying this RRR6 to find it.
Overall, this is the kind of rye I would expect from Wild Turkey. Satisfyingly tasty neat, rich and creamy on the rocks and it makes one of the best rye Manhattans I've had. Rich texture, complex flavors and aromas, through and through it's one hell of a dram… now if only they would do a single barrel triple digits bottling of this. Russel's Reserve 110 proof small batch single barrel non-chill filtered rye anyone?
Wild Turkey Russell's Reserve Rye 6 yr. Review
ABV: 45%
Age: 6 years
Price: $35
Distiller: Austin, Nichols Distilling Company
Mash: 65% rye, 23% corn, and 12% malted barley
EYE
Coppery Amber
NOSE
Caramel followed by a big slap of rye accompanied by some butterscotch, red berries, vanilla and dill. Some wood comes sliding in underneath to support the whole thing.
TASTE
Caramel, rye, vanilla and wood completely dominate the palate but leave little cracks for some leather, pepper and an ambiguous baking spice to slip in.
BALANCE, BODY & FEEL
Good balance, medium body and a soft simple feel makes this one ridiculously easy to drink.
FINISH
A woody biscuity character envelopes rye spice, a watery caramel and a bit of dill that mixes, mingles and slowly fades.
SCORE: 90/100