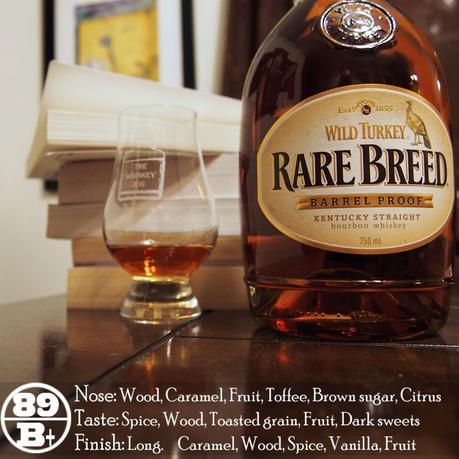 Wild Turkey Rare Breed 2015 Release is the latest batch in the long and storied history of Rare Breed. This is the first batch Wild Turkey has released that eschewed the traditional batch numbering used in the previous releases of the Wild Turkey Rare Breed. A batch numbering that I hope they bring back because without them it's going to be really difficult to put on another Rare Breed Vertical tasting in the future.
Even though the Wild Turkey Rare Breed is a NAS bourbon as it carries no stated age it would be categorized as a 6-years-old bourbon. To make WTRB, Eddie and his team blend together barrels of bourbon aged 6, 8 and 12 years and then bottle it with no added water. It's a barrel proof bourbon that's carefully blended together to create a balanced dram worthy of its premium status.
Wild Turkey Rare Breed 2015 Release Info
Region: Kentucky, USA
Distiller: Wild Turkey
Mashbill: 75% Corn, 13% Rye & 10% Malted Barley
Cask: New charred oak
Age: NAS (technically 6 years)
ABV: 54.4%
Cask Strength | Non-Chill Filtered | Natural Color
Batch: 2015
Price: $45*
Wild Turkey Rare Breed 2015 Release Review
EYE
Deep caramel
NOSE
Wood, caramel, a fruity banana-like note, toffee, brown sugar, citrus peel and cinnamon with some light anise and leather notes. There's a good reason why this newest release performed so well in the blind Rare Breed tasting.
PALATE
Big spice (cinnamon and nutmeg heavy), wood, toasted grain, fruit (banana and red fruit) followed by some lighter notes of dark sweets and vanilla gently glide into the finish.
FINISH
Long and caramel heavy with bits of wood, spice, vanilla and fruit. Interesting and lovely, this is a good bourbon.
BALANCE, BODY & FEEL
Good balance, rich full body and a round heavy feel.
OVERALL
Wild Turkey Rare Breed 2015 Release is a seriously good whiskey. It stuck out like a sore thumb at the epic wild turkey rare breed tasting I took part in recently it didn't stick out in a bad way and seemed to rank highly for most of the folks at the event. It has a different nature from past releases, but different doesn't always mean bad and that difference for Wild Turkey seems to be a touch of fruit.
That bit of banana-esque fruit that's popping up more in Wild Turkey recently isn't a bad thing to me. The rye influenced spice that accompanies the wood and grain plays nicely off of the lighter fruitiness and brings a greater balance to the whiskey in my opinion. If you've been following the blog then you know I'm a big Wild Turkey fan and without hesitation I can say that they're currently as good as they've been. The blind Rare Breed Vertical and Wild Turkey 101 Tastings have definitely been proof of that and if you haven't had glass of the 101 or Wild Turkey Rare Breed recently I suggest you do.
SCORE: 89/100
*Disclosure: This sample of Wild Turkey Rare Breed 2015 Release was graciously sent to me by the company for the purposes of this review. The views, opinions, and tasting notes are 100% my own.