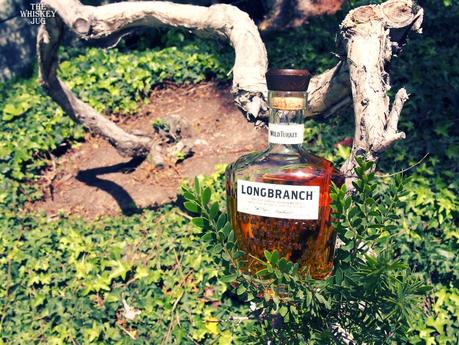 Wild Turkey Longbranch is a beautiful looking release that contains a lot of firsts for the brand. It's the first time Wild Turkey has released a whiskey filtered through Mesquite charcoal, it's the first time an outside party was responsible for a release carrying the Wild Turkey name and it's the first time a signature other than the Russell's graces the label. It might also be the first time a mass Wild Turkey release was bottled at 43%. I know the old brown label was 43.4, but I can't think of any at 43% exactly and a quick search didn't show any.
Aged for 8 years, filtered through mesquite and oak charcoal and brought down to 86 proof it's the brainchild of Matthew McConaughey and Eddie Russell. There's a great video describing the process of how it all came about that I highly recommend checking out, but now on to the review.
Wild Turkey Longbranch Review: Details and Tasting Notes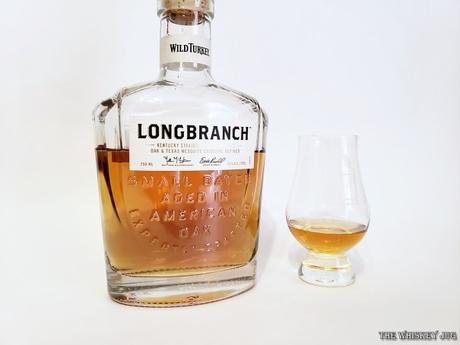 In Wild Turkey's Words: Wild Turkey Longbranch
"Matthew McConaughey and Master Distiller Eddie Russell are proud to present this rare, small-batch bourbon. Eight Year-Old Wild Turkey Bourbon is refined with Texas mesquite and oak charcoals for deeper flavor and complexity. The aroma is a balanced blend of vanilla and spices. Flavors of caramel, pear, and hints of citrus round out the palate, while the subtle, smoky finish is buttery smooth—with notes of gentle pepper and toasted oak."
Wild Turkey Longbranch price, ABV, age and other details
Region: Kentucky, USA
Distiller: Wild Turkey
Mash Bill: 75% Corn, 13% Rye, 12% Malted Barley
Cask: New Charred Oak
Age: NAS (8 years)
ABV: 43%
Price: $37*
Wild Turkey Longbranch Tasting Notes
EYE
Med caramel
NOSE
Caramel heavy dark sweets (maple, brown sugar, etc.), char, vanilla, cinnamon oil, pepper and some roasted corn, oak and fruit.
PALATE
Dark sweets (caramel, butterscotch, etc.), corn, oak, cinnamon, cocoa, char and bits of leather, vanilla and nuts.
FINISH
Medium -> Sweets, corn, char and nuts.
BALANCE, BODY & FEEL
Good balance, medium body and a soft feel.
Wild Turkey Longbranch Review: OVERALL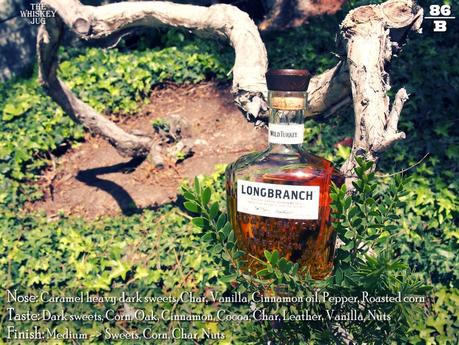 My first thought on the Wild Turkey Longbranch was "it's soft". And it is, but lately I've been drinking a lot of Russell's Single Barrels and so when my brain thought "Wild Turkey" that's immediately where it goes. Which is, of course, wrong, because the two are nothing alike for several reasons: charcoal after distillation, age and also ABV.
The aroma is sweeter and less oak driven than things like Wild Turkey 101 or any of the Russell's releases and the palate follows suite with an even denser sweetness than the aroma. There's also more char and something that almost resembles smoke in that spot between the sip and the finish. It's missing that signature bite and in some ways it reminds me of the Old Ripy. Regardless, it's a delightful interesting whiskey and I don't see this bottle lasting long.
SCORE: 86/100 (B)
*Disclosure: This Wild Turkey Longbranch was graciously sent to me by the company for the purposes of this review. The views, opinions, and tasting notes are 100% my own.
Nose -

86

Palate -

86

Finish -

86

Balance, Body & Feel -

86
86
Wild Turkey Longbranch Review rSummary
Wild Turkey Longbranch is a decent whiskey. New, different and a unique expression of a well loved whiskey.
Sending
User Review
0

(

0

votes)
Comments Rating
0

(

0

reviews)

Add your voice to the Wild Turkey Longbranch Review! Give it a star rating below OR you can submit a more detailed review and score in the comments section!