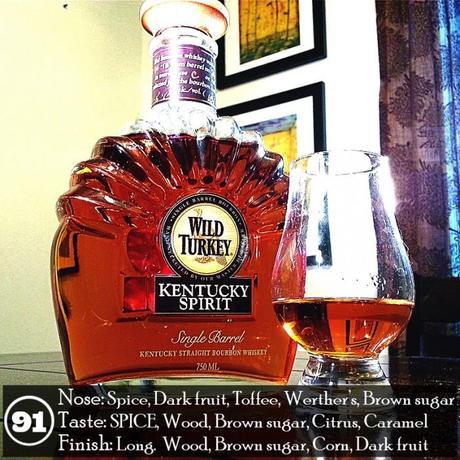 The Wild Turkey Kentucky Spirit is single barrel Wild Turkey 101 that has a bit more age to it and, being a single barrel, it also means that unless you get something from the same barrel as me, you're going to have a slightly different experience. It also means that while I rate this one a 91 the next barrel could be an 87 or even a 97. It's like the Four Roses Single Barrels. Sure each bottle you get will be different, but they'll all be good.
Now you might be looking at the price on this one and start thinking to yourself "Damn, I could buy 2 1/2 bottle of the regular 101 for that price" and you would be right. So what's the difference? Well the standard 101 is a blend of 6, 7 and 8 year old bourbons which likely errs far more towards the 6 than the 8. In comparison, each barrel of Kentucky Spirit has been aged for 8.5 – 9.5 years and there is no blending. Other than the Russell's Reserve Single Barrel, which is bottled at a higher proof, this is the closest most of us are ever going to get to experiencing what Jimmy Russell and team tastes on a daily basis.
Wild Turkey Kentucky Spirit Review
Bottled On: 8-26-13
Warehouse: C
Rick: 35
Barrel: 36
ABV: 50.5%
Age: 8.5 – 9.5 years
Price: $50*
Distiller: Austin, Nichols Distilling Company
Mashbill: 75% corn, 13% rye, and 12% malt
EYE
Caramel
NOSE
Oh that fantastic Wild Turkey bourbon spice, how I adore you and here in barrel 36 from rick 35 in warehouse C you come out in a crashing monstrous wave. As the wave recedes tidal pools of dark fruit, toffee, Werther's Original, brown sugar and cinnamon are left behind with smaller pools of wood and vanilla emerging right before being covered back up by the spice wave.
TASTE
Again that marvelous spice followed by a much more prominent wood which is trailing notes of brown sugar, citrus, caramel, dark fruit, corn and a ghostly mint that seems to fade in and out between sips.
BALANCE, BODY & FEEL
Hard to get more balanced with sweet and savory sitting in near perfect alignment and bolstered by a full body and smooth inviting texture.
FINISH
Wood, brown sugar, corn, dark fruit, honey, caramel and mint all mix and mash together on a nice long slow fade.
SCORE: 91/100
Overall
This, like just about every other Wild Turkey product, is great. Though if I'm being completely honest, and we're all friends here so why the hell not, I would rather take the $4 -$10 leap and get the Russell's Reserve which is bottled at a higher proof and is non-chill filtered. Higher proof + non-chill filtering means that for only a few bucks bucks extra you're getting a lot more bourbon for your buck. Though if you're buying it for someone else, and they're not a complete whiskey nerd like me, go with this because the bottle is almost as stunning as the liquid inside and looks far more impressive than the RR when on display.
*This bottle was graciously provided by Wild Turkey's PR team for the purposes of this review