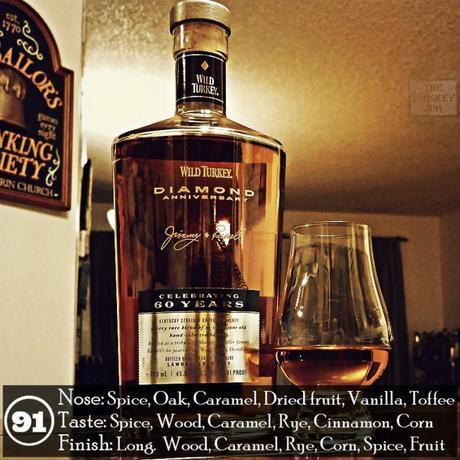 The Wild Turkey Diamond Anniversary was created to celebrate the 60th anniversary of Jimmy Russell(doc link). Jimmy started working at Wild Turkey in 1954 and has probably held every job at the distillery during that time while learning from bourbon luminaries like Bill Hughes and Ernest W. Ripy. To create the Diamond Anniversary Jimmy's son Eddie, who is also an Associate Distiller at Wild Turkey, cherry picked barrels of bourbon that ranged from 13 – 16 year old and blended them together and create this tribute to his father. The living legend who has worked tirelessly for decades to help shape and influence the modern bourbon world.
With a price tag of $125 you might be looking at it and wondering if it's worth the price and I can tell you with all honesty that, being a huge Wild Turkey fan, I was planning on tracking one down before I was sent this bottle for review. I can also tell you that after having it, I'm now considering tracking down a bottle anyways so I can have a backup. If you're not already a Wild Turkey fan then this may not be your thing, but if you are then it's likely going to be right up your alley. It's everything you love about Wild Turkey with an extra dose of spicy oak with a little piece of history on the side.
Wild Turkey Diamond Anniversary Review
ABV: 45.5%
Age: 13 years (blend of 13-16 yr bourbon)
Price: $125*
Distiller: Wild Turkey
Mashbill: 75% corn, 13% rye, and 12% malt
EYE
Light caramel… I was actually expecting it to be a bit darker given the age.
NOSE
Classic Wild Turkey spice with wonderful notes of oak, caramel, dried dark fruit, vanilla and toffee. Cinnamon, sandalwood, citrus peel and hints of raw grains move about and after adding a dash of water a very strange, but not unpleasant, coca note appeared that I've never picked up in a Wild Turkey before.
PALATE
Again that wonderful Wild Turkey spice is upfront and combines forces with notes of wood, caramel, rye, cinnamon, corn, dried dark fruit and a touch of honey. There is an almost malted like sweetness to it that slides through in the back with hints of citrus.
FINISH
Wood heavy but punctuated with caramel, rye, corn, spice, dried dark fruit and vanilla.
BALANCE, BODY & FEEL
This expression of Wild Turkey is a nicely balanced whiskey. Medium-full body that delivers a warm and elegant mouthfeel.
OVERALL
This is an experience whiskey. It's not likely you're going to have too many other opportunities to try Wild Turkey that's been aged this long and, unless Eddie last another 27 years as a distiller at Wild Turkey, it's a celebration we'll likely never have again. The spicy and elegant nose with an almost austere quality to it combined with the grain and wood driven palate and finish bring out some new and unique aspects to what would be an otherwise traditional Wild Turkey experience. My only real complaint is that it's bottled at 91 proof instead of the infamous 101 proof.
SCORE: 91/100
*Disclosure: This was graciously sent to me by the company for the purposes of this review. The views, opinions, and tasting notes are 100% my own.