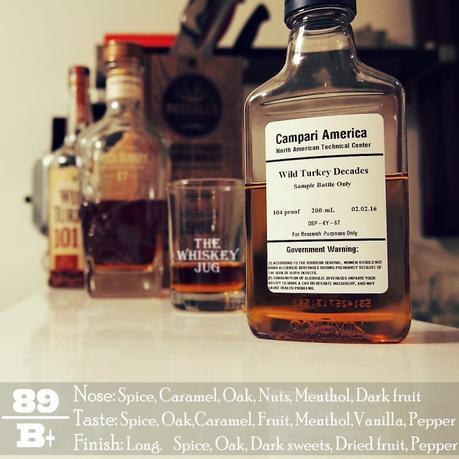 Wild Turkey Decades is a mix of Wild Turkey bourbon that's been aged for 10-20 years and is being bottled under their Master's Keep line which seems to be turning into Eddie Russell's premium experimentation line. There's nothing wrong with that and so far we're getting at least a little bit of insight into what exactly's going into these releases which is rather nice. It'd be even nicer if we got a full breakdown, but at least it's not just some blackbox NAS whiskey.
With the first Wild Turkey Master's Keep we got a 17 year old bourbon that went through quite the journey before settling into a bottle and was the oldest Wild Turkey that had ever been released to the US market. This year the Master's Keep label is delivering a bourbon that contains the oldest whiskey they've ever let out of the distillery with the Wild Turkey Decades. It also contains some of the whiskey that went on the same multi-warehouse journey as the the whiskey in the 17-year-old edition.
Wild Turkey Decades Info
Region: Kentucky, USA
Distiller: Wild Turkey
Mashbill: 75% Corn, 13% Rye, 12% Barley
Cask: New Charred Oak
Age: 10 Years Old (mix of 10-20 years-old whiskey)
ABV: 52%
Non-Chill Filtered | Natural Color
Price: $150
Wild Turkey Decades Review
EYE
Polished oak
NOSE
Spice, oak, caramel, dried dark fruit, nuts, menthol, toffee, a light bit of vanilla and touch of something that reminds me of blueberry muffins. That was a really surprising note to get, but now that I've made the association I pick it up every time I take a sniff.
PALATE
Oak, spice, dark fruit, caramel, menthol, vanilla and some light notes of pepper and leather. In a way I was disappointed that I didn't get any blueberry muffins here like I did on the nose, but the heavier oak and dark fruit notes made up for it.
FINISH
Long and velvety I think this might be the best part of the whiskey. Bold notes of oak, spice, dark fruit, dark sweets and pepper seem to build for about a minute before gracefully gliding out.
BALANCE, BODY & FEEL
Good balance, round full body and a heavy warm feel.
OVERALL
Wild Turkey Decades is good, but I like the 17-year-old better; it has a deeper richer character and overall a better sense of balance. That said the Wild Turkey Decades is still a good whiskey. The nose is full and warm and if it weren't for that long silken finish it would be my favorite part of the whiskey. The palate, while tasty, does fall a touch behind everything else. It's only by a hair though because it's definitely a delightful sip.
With how prevalent and heavy the oak note sits I'm thinking there's a decent amount of older whiskey in here. It sits next to some robust dark fruit and spice, but the oak definitely steals the show. This might sound like an odd thing to say, but I think the Wild Turkey Decades could use a bit more of the younger 10-year-old whiskey to help fully balance it out and brighten up the whiskey a tad. Still, it's a good whiskey and I'm a huge WT fan so it's very likely I'll be picking this up to continue the Master's Keep collection.
SCORE: 89/100 (B+)
*Disclosure: This sample of Wild Turkey Decades was graciously sent to me by the company for the purposes of this review. The views, opinions, and tasting notes are 100% my own.