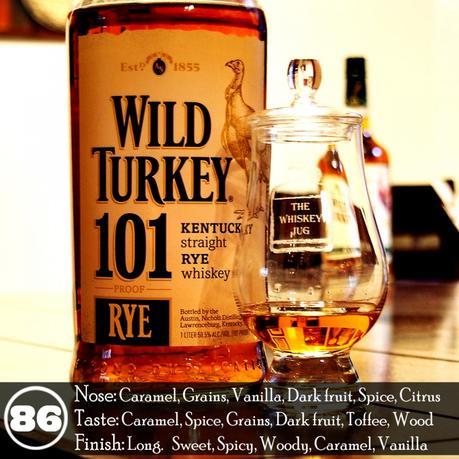 Wild Turkey 101 Rye is back! After a couple of years missing from the shelves followed by a stint in the on-premise-only game it's starting to show up on the shelves once again. I found this 1 liter version on the shelf at a local bottle shop, but I've started seeing the 750ml version of it showing up here and there in Los Angeles as well and that's exciting for 2 reasons.
Reason number one is that it's just an all around great rye. While the 81 proof version of it might be a little on the meh side of things, the old 101 was one of my favorite sipping ryes. Reason number 2 is because one of my favorite cocktail ryes is back in business and that means my usual workhorse, Rittenhouse, can get a bit of a break. So yes it's exciting for 100% selfish reasons, but why else would I get excited? Seriously?
Wild Turkey 101 Rye Info
Region: Kentucky, USA
Distiller: Wild Turkey
Mashbill: 51% rye, 37% corn, 12% malt
Cask: New charred oak
Age: Presumably a mix of 4-5 year old rye
ABV: 50.5%
Price: $40 (1 liter)
Wild Turkey 101 Rye Review
EYE
Medium caramel
NOSE
Caramel, grains, vanilla, dark fruit and spice. Touches of citrus, oak, toffee, dill, maple and baker's flour help build up the complexity a bit and it ends up being a pleasant aroma.
PALATE
Caramel and a stronger, more complex spice mixed with some grains and dark fruit give way to toffee and wood that builds to a warm dark sweetness towards the end.
FINISH
Long, sweet, spicy and woody with mild notes of caramel and vanilla popping up along the way.
BALANCE, BODY & FEEL
Good balance with a round full body and a smooth velvety texture.
OVERALL
The new Wild Turkey 101 Rye has a lot in common with the current Wild Turkey 101 bourbon which is a good thing because the current 101 is pretty darn good. The sweet and spicy nose and palate make this a rye I like to drink neat but also a rye that makes a good base for a cocktail. It's just an all around nice rye. Not quite as good as the Russell's Reserve 6 year Rye mind you, but still nice and tasting it next to the older Wild Turkey Rye 101 it shows a lot of similarities, but I do like the older batches just a hair more.
SCORE: 86/100