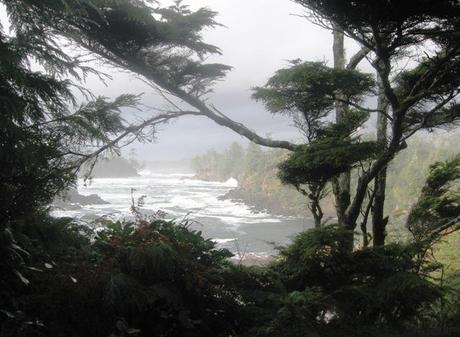 Storm watching on the Wild Pacific Trail, Ucluelet, Vancouver Island, Canada
The Wild Pacific Trail located in the small town of Ucluelet on Vancouver Island, British Columbia, Canada.  It  is one of my favorite Vancouver Island trails following the rugged cliffs and shoreline of western Vancouver Island, with views of Barkley Sound and the Broken Group Island.  The Wild Pacific Trail was also one of My Top 5 Travel Destinations of 2010.
In the winter months Ucluelet and the nearby town of Tofino are known for storm watching.   If you're feeling brave and don't mind frigid temperatures you can surf in Tofino, brrrrr.  We weren't feeling brave so choose to walk the Wild Pacific Trail and do some storm watching instead.   If you get tired, you can take a break on one of the many benches on route for some whale watching.
This photo has been submitted as part of a weekly photography showcase organized by Nancie at Budget Travelers Sandbox where you can see more travel photos from around the world.
You may also be interested in:
The the official Wild Pacific Trail website for more info.
A Canadian Adventure:  Itinerary for Western Canada
Cheap Flights Between Canada and Europe