If you read through my posts about Cartier, you know how I feel about knockoffs. Not a fan. Not for designer jewelry, not for designer handbags, and certainly not for Swiss ("Swiss") watches. When it comes to engagement rings though, my feelings had gone unexamined until a few weeks ago.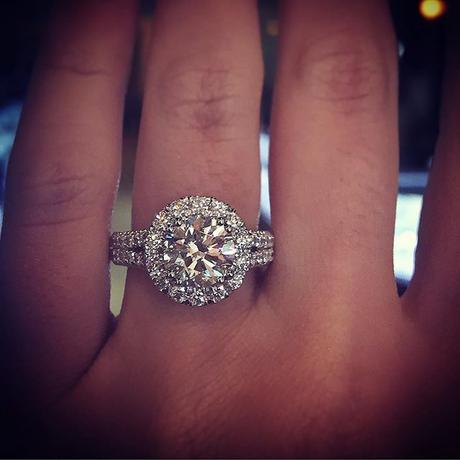 I was monitoring the RLJ Insta feed, responding to comments, answering questions, sending bow-down emojis, etc. when I came across an @mention that caught my eye. Someone tagged their BFF or BF, I didn't stalk that hard, and said "we could have the Pawn Shop make this!"
Hold up. I had to think about that – how did I feel? My knee-jerk reaction is NO KNOCKOFFS, but I do understand that for some custom is a preferred choice over buying designer, for whatever reason. And I know that there are some pawn shops that could do a good job at this – though I doubt they are as good as ours.
Ultimately though, I'm not into it. I don't think you should have a knockoff designer engagement ring made. And that is what I'm discussing, if I interpreted that comment correctly. Not gathering elements from 6 different rings on Pinterest and showing them to a master jeweler to create something totally your own (I see you, Picky Bride, and I want to see the finished product because I know it will be amazing!)
No, I mean I'm not in favor of rolling up to your jeweler of choice and showing him Verragio AFN-5007CU-4-GL and saying "I'll take two!"
For a few reasons. First, copyright infringement. All art is derivative, I get that, but this is a pretty clear step over the line. You are asking one talented artist to totally replicate another's proprietary design. It's insulting to both. You are also inevitably not going to get the same design – I don't care how good your guy is.
I've had the privilege of meeting some amazeballs master jewelers, and they all have their own technique, style, and specialties. They shine brightest when they're left to their own creative genius, not trying to replicate someone else's. They also don't have access to the same exact tools, materials, setting, sketches, CAD, and workshop. So the end result will be close – but not quite what you showed him. And in cases like this…I've seen it turn into a nightmare, for client and designer alike.
The next reason is the warranty. When you buy designer, you are not only paying for the craftsmanship, but the name. And with that name comes a promise – usually for a lifetime – that they will stand by their setting should anything happen to it. Most anything. Don't accidentally set it on fire or anything and expect much recourse. This peace of mind is well worth the price difference for most couples.
So if you're in love with a ring, but think you'll do better on price by having it replicated…just don't. Your guy is good, I'm sure. But he's not that good. You're better off looking for something similar by a lower priced designer, having something totally custom (not copied) designed, or waiting just a bit longer to save or for a great financing deal to start. In the long run, you'll be happier, and prouder of your ring.