If you had a first look (like I did!) please don't take offense to this post. Just my $.02 Please enjoy, and remember: this is an opinion piece of a nobody blogger and not the advice of a medical professional.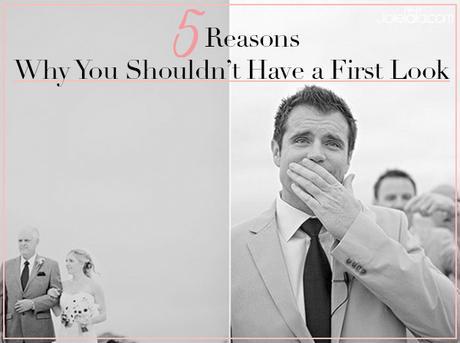 Original Photo by Joielala Photography
I can't believe I just typed that headline. It feels like some place somewhere has frozen over, but really, it's the truth. I'm here to tell you you shouldn't do a first look on your wedding day. Now, before we begin, a few disclaimers: If you had a first look, and loved it, please do not take offense. I had a first look. I loved it at the time. If you're debating whether you should or shouldn't have a first look session on the big day, please read several articles from both sides of the aisle (teehee). I never really considered not doing a first look, but reading lots of articles on Pinterest (this one in particular) helped me reaffirm that what I wanted was, indeed, this special session before the wedding ceremony. After all, the tradition of not seeing the bride was outdated and meant to trap the groom into not bailing, no matter HOW hideous his bride was (my thought process.) The articles I read about why you shouldn't have a first look seemed to pale in comparison. It was a classic case of hearing only what you want to. That being said – this is an opinion piece. Not a definitive ban on first looks, and certainly might not be an opinion piece you might agree with. All I'd like to do is share the 20/20 hindsight of a reformed first looker, so you can make an informed decision. Now that the red tape's out of the way, let's dig in.
In a non-religious, non-traditional ceremony, a dash of tradition can't hurt. Hubs had already been my partner for so long, my soulmate, and my other half. He already felt like my husband (I thought.) So I figured that I would really want to see him before the ceremony to calm any jitters. However, I had none (probably because of the aforementioned certainty). So the first look was unnecessary – as devastatingly handsome as he looked in his tux – and it really did make that big moment during the ceremony slightly anti-climatic. Here we were, separated from forever by a 20 foot stretch of rose petals, and ready to begin. The moment is still one of my most treasured memories, but I wish that that moment was the first time I saw his handsome face that day. And I would trade every out-of-season anemone I begged my florist to find for a shot like this: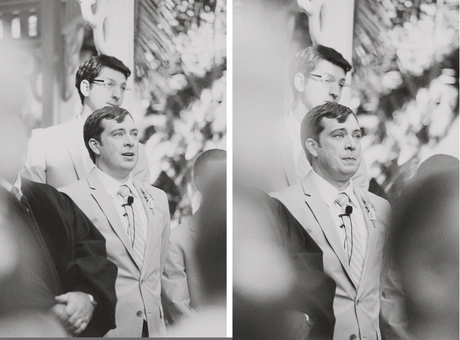 via Sara Bray Photography
That's my friend's hubby – they didn't have a first look & how awesome is this expression?
Girl Time is precious. Savor every moment of getting ready. The day will fly by, just like you've heard, and before you know it you'll be a married lady. So soak up those last few hours of being a "single" lady with your best friends and female family members. The ones who've known you since second grade. The ones who kept all your secrets in college. The ones who changed your diapers. The ones who knew you – just you – before you were a "we" or a wife. Keeping your friendships strong after marriage is so important, women need women. But you are about to vow to the man you love that you will place your relationship above all those with other people in your life. You're getting ready to spend a lifetime with him, so spend these last few hours with those who you've loved in your life so far.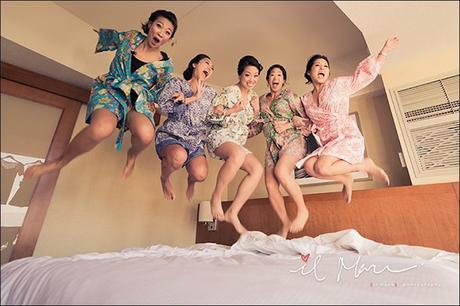 via Il Mare Photography
Mimosas and Beyonce playlists are infinitely more fun than dealing with…
Groomsmen. I love our groomsmen. I truly do. But you wouldn't have guessed by the swears I used to describe them on my wedding day. Words you should never utter in a dress so beautiful. One of the main reasons why we chose to do a first look was to knock out all the bridal party portraits before the ceremony, in an orderly fashion, so everyone could go enjoy cocktail hour afterwards. Great in theory – except when the (previously stated and given in writing both e- and ink) time came for us all to rendezvous for pics, only two of them showed up. Some at the bar, some playing pianos in the hotel lobby (ahem, brother), some completely MIA. It was the first time I was stressed all day and it led to assigning each groomsman to a bridesmaid for constant supervision, which led to the guys finding out we had better champagne & liquor in the bridal suite. Which led to the entire bridal party chillaxin' together before the ceremony and our planner kicking the boys out 15 minutes before the ceremony. A little informal black tie pre-gaming for the biggest moment of your lives I do not recommend.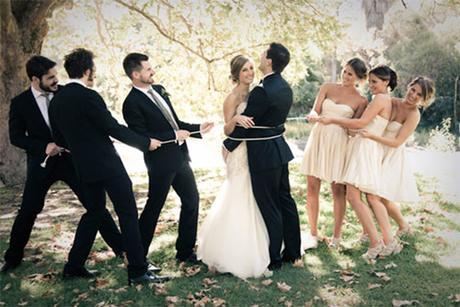 via The Knot
In defense of my original reasoning for interacting with them, we did get some awesome pics, along these lines.
Your timeline is irrelevant. I had the most kick ass timeline. It was down to minute intervals. It was color coded. And it was totally useless. Those pre-ceremony family portraits that were supposed to be relaxed? My parents were MIA, we left my sister in law out of one, I was very sweaty, and again, groomsmen. That cocktail hour you want to go enjoy? Ha! You'll never see those mini brie en croute, lady. NEVER. You'll be taking more shots of you and your husband(!!) Because of course you and your photographer both want to capture that "OMG WE'RE MARRIED FOR REAL!" giddy glow. You'll also need to take whole family portraits with every member of your Irish and/or Italian families with 30 seconds to corral everyone because staff is pulling down your ceremony space around you to turn it into reception. No? Just me? Ok, well take my word, you still aren't going to cocktail hour. You'll be taking more pictures. So unless you're having a nice long gap in between your ceremony and reception, plan on using cocktail for pictures – and take your husband and wife pictures then. You can still use time wisely by taking bridal party portraits & parent pics separately before the ceremony.
Adorable. Useless against groomsmen.
LOL ok. And another one because this bride meant business. And her schedule was very similar to mine.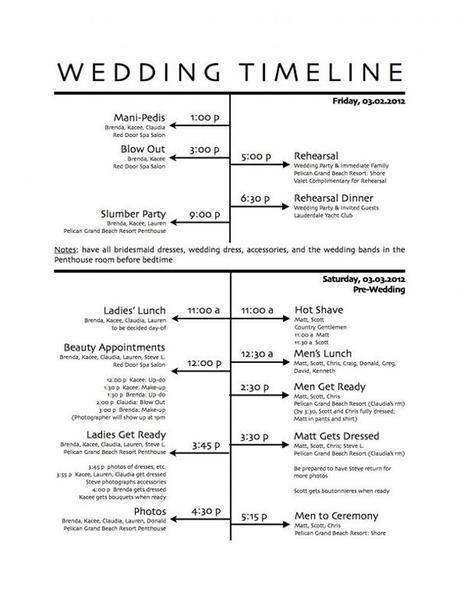 Guess who read this document? No one with a Y chromosome.
You can still have a first look. With the man who loved you first. With your first love. With the guy who set some pretty high standards of care for your groom to live up to. Take that time and spend it with your Dad. Again, these are your last few hours as just you, someone's friend, cousin, sister. Just his daughter, not also someone's wife. This was one of my favorite moments of my wedding day, and if you can, it's something I recommend! If your Dad isn't there to walk you down the aisle, have a first look with your Mom, your brother, your Grandma. Whoever in your life knew you first and loved you first.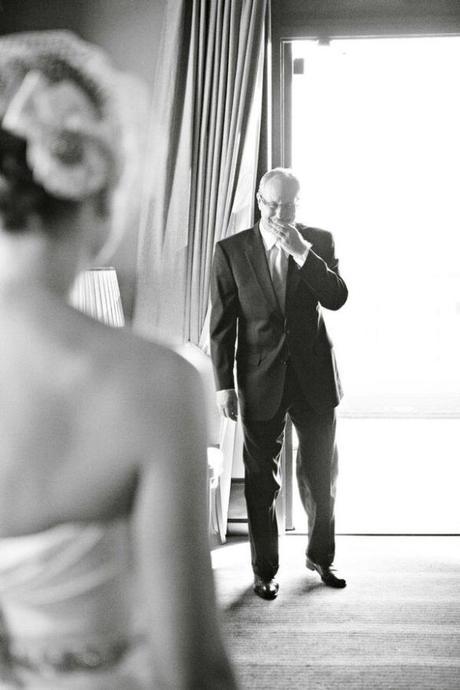 Annd I'm crying.
Did you have a first look? Did you love it? Do you regret it? If you're getting married(!) what's your first look plan?