Brides, you know we love a fantastic deal as much as the next jeweler. After all, we sell Cartier Love bangles for thousands off retail. We pride ourselves in coming in at 30% less than other Boca jewelers on the regular. And when you're hunting for a luxury watch to give your groom on the big day, come to us, save a couple hundred (or thousand) and put those funds toward your shoes. We repeat: today is not the day to wear cheap wedding shoes. Is it tempting after all the spending you've done for the last year? Yes. But listen, you're paying thousands for flowers – please set aside a shoe fund for the sake of your feet.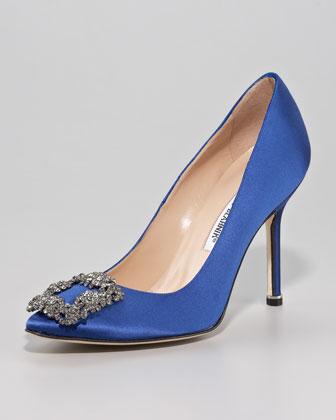 Something blue? We do – Manolo Blahnik Hangisi pump $965 at Neiman
Unlike 99% of your other wedding expenses, your shoes will live on beyond your wedding. Why not actually purchase a pair that you'll wear for years? Those white satin kitten heels from the bridal store probably aren't something you'll wear to a nice company party, or dinner on your 5th anniversary, whereas a timeless pair of your dream shoes definitely will. Today is the day to splurge on a pair that you otherwise would never buy – you'll treasure them for years to come.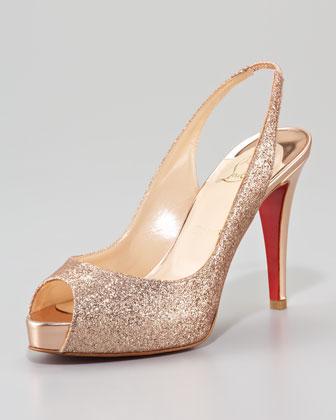 SO sparkly – Christian Louboutin No prive $845 at Neiman Marcus
And all sentimental/princess fantasy indulgence aside – a quality shoe costs more. You pay more for craftsmanship, for non-skid leather soles, for leather uppers that conform to the shape of your foot, and for beauty that will let you dance the night away with a smile on your face. And we're not saying you should abandon all shopping savvy – do your research. Which shoes get great reviews from other brides? Zappos and Nordstrom in particular have a good review system online.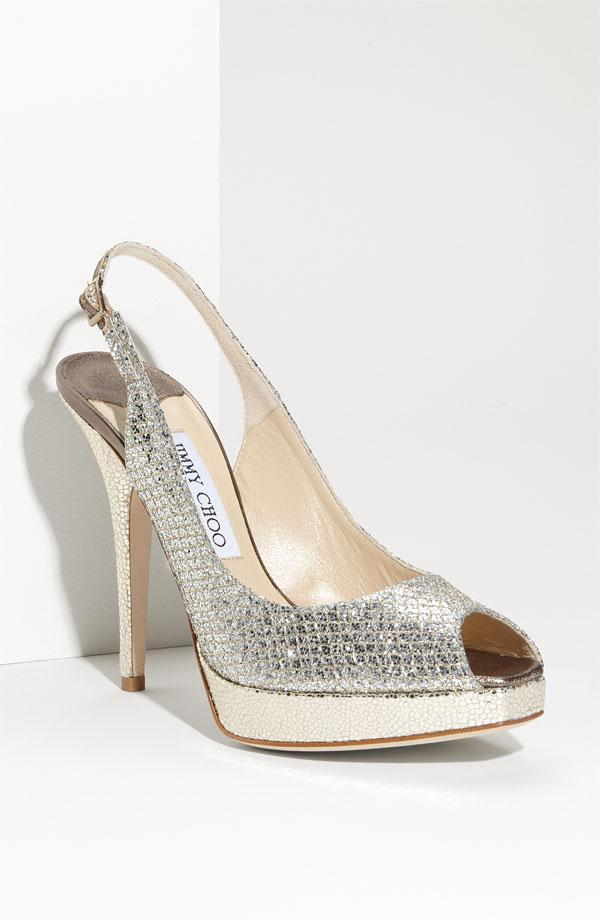 This is a game of Clue we'd love to win – Jimmy Choo 'Clue' Glitter Slingback Pump $675 at Nordstrom
Once you know what brand you'd like, start hunting. Outlets like Neiman Marcus Last Call, Sak's Off 5th, Nordstrom Rack and more regularly feature designer shoes at a major discount. Even shopping the sales at the department stores themselves is a good way to score 30% off (on a pair of Louboutins that's likely $300!)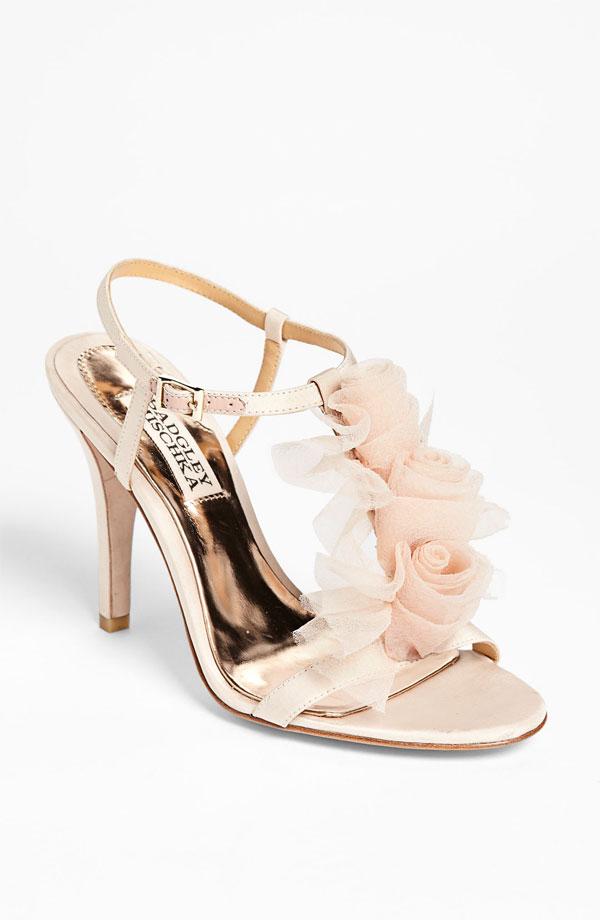 Quite possible the most perfect summer wedding shoe – Badgley Mischka 'Cissy' Sandal $225 at Nordstrom (and Badgley Mischka, out of all these brands, is the most regularly featured on flash sale sites!)
You can also turn to the net – shopping flash sale sites like Gilt, Rue La La, Hautelook, MyHabit and Beyond the Rack will turn up at least 3 designer shoe sales each week. Just research your size in the brand you like ahead of time – many European brands run a half size small. If you're looking to score more in the 50% off range, your best bet is eBay.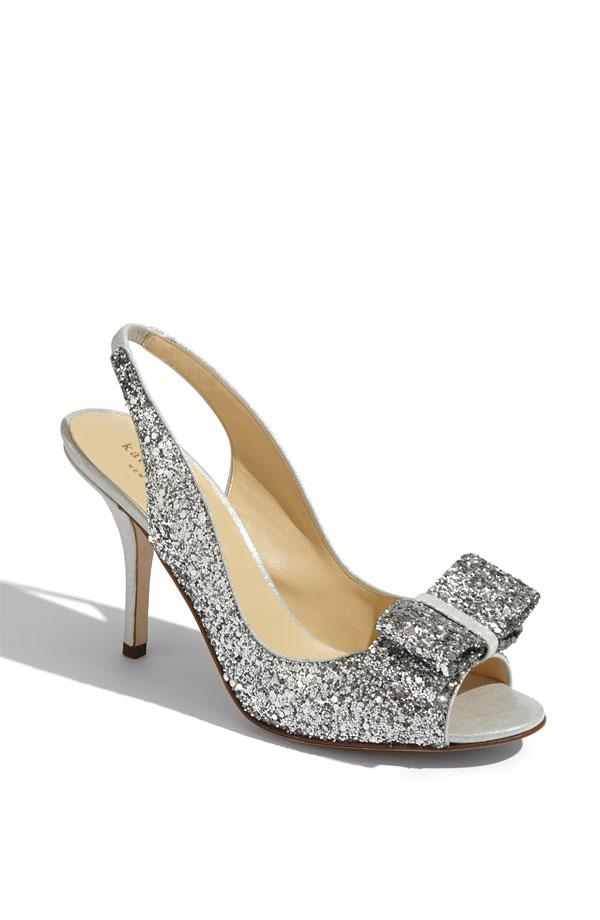 Classic, flirty and feminine (and also comes in gold, black and multi!) – Kate Spade Charm $325 – note, these n.e.v.e.r. go on sale. Your best bet is waiting for one of KSNY's sitewide sales during Black Friday or Cyber Monday. If you see them for less than $325 don't hesitate to snap them up!
Shopping eBay(and winning auctions) is a sport. It takes skill, but it's the best way to save an insane amount on luxury goods. First, decide what your criteria are for shoes – likely you'll want them new in the box (NIB in eBay speak). You can venture into excellent used condition (EUC) territory, but be sure that you get extensive pictures of the shoe from every angle, including the soles, back of the heel, toe, instep etc. Ideally the seller will accept returns, but many don't for shoes, so it's extra important that the seller have a high-star rating. Often you'll see one off fashionistas selling their pre owned designer shoes after they've seen better days – steer clear, these shoes are often obviously worn and not in the "excellent" condition their listing describes.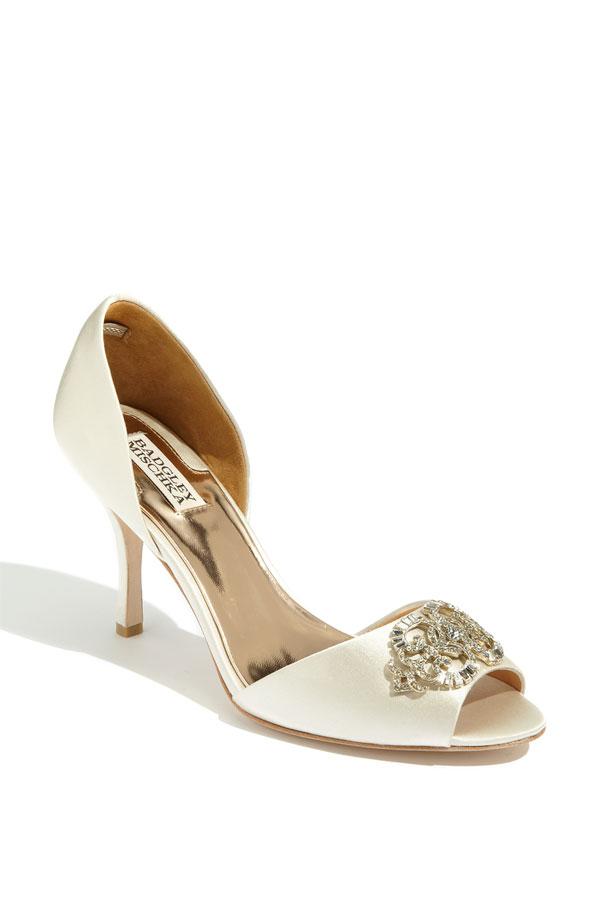 The D'Orsay pump is quite possibly the most flattering shoe known to woman – Badgley Mischka 'Salsa' Pump $150 at Nordstrom (also comes in a multitude of colors).
The best bet for eBay is definitely new shoes with the box or tags, sold by a vetted seller with at least a 98% rating. Make sure the listing says that the shoes are authentic (and compare the shoes to photos on the designer's website). If a seller is using stock images from a department store or designer's website, ask for actual pictures of the shoe. If they can't (or won't) comply, walk away. Lastly, set your maximum bid for an auction and do not go above that. Last minute bidding will have your heart racing, your adrenaline pumping, and your wallet emptying in an effort to win at all costs (but that's the problem – it's your cost). If you lose this one, fear not, another pair will come along.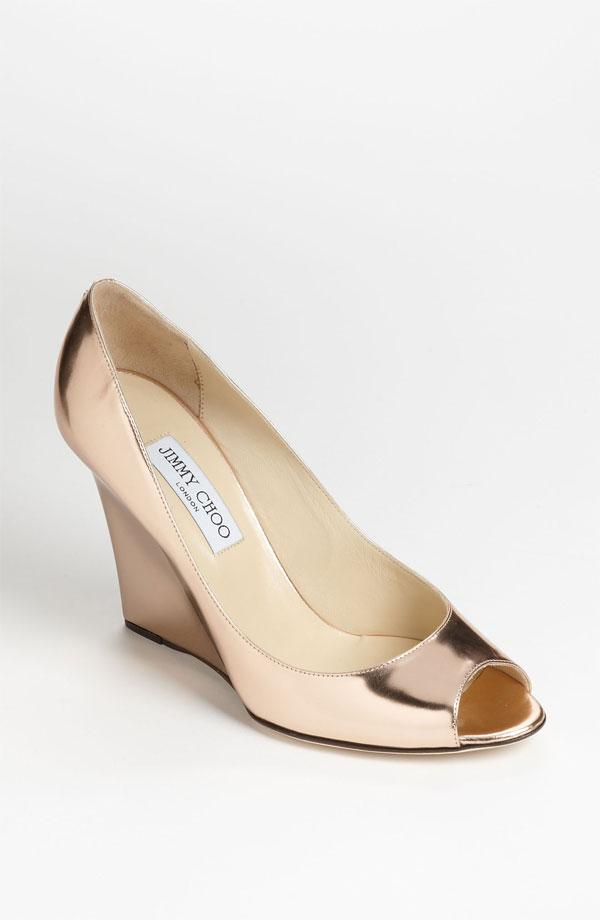 Wedges – the ultimate combo of style and comfort. Love this rose gold pair by Jimmy Choo, $650 at Nordstrom (also comes in champagne glitter!)
With so many ways to score great deals on designer wedding shoes, there is no excuse for cheap wedding shoes! Your aching arches, blistered feet and their disposable nature are not worth it. If you truly want to save, go barefoot (and godspeed to your pedicure) but for this one day, we think it's fine to indulge your Carrie Bradshaw fantasies – especially if you get a great deal while doing so. And don't forget – get them early so you have time to break them in!