Think jewelry is just something that goes on a neck or a wrist? Think again! Accessories don't begin and end in traditional media; and it takes the element of surprise to really make a statement. Sparkle and shine can be at home anywhere and perhaps best speak from unexpected places.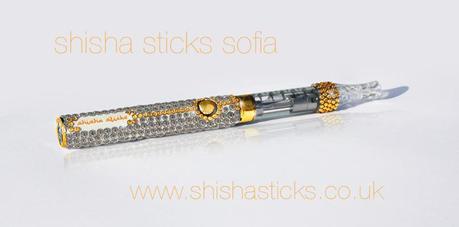 It's hard to argue with the current statement of the millennia: the custom-made vaping device that a mysterious Russian billionaire recently ordered from UK-based company Shisha Sticks. Shisha Sticks has made its name producing electronic shisha vaping devices (or, as we call them here in the United States, "e-cigarettes").
What is an "e-cigarette" anyway?
Your run-of-the-mill e-cig consists of several basic components: an LED indicator light situated on the device's tip which turns on when the e-cig is being "pulled" (or inhaled from), a long shaft that houses battery components, a tiny atomizing device through which liquid nicotine and flavoring pass (the dosage amount is controlled by a smart chip in the device), and an inhaler which goes in the user's mouth. Standard models range in appearance from sleek black, to something resembling a conventional cigarette. Standard starter kits (that is "permanent" rather than "temporary" versions) are priced anywhere from $40-$70.
But not this luxury model.
Designer Anthony Mixides from Shisha Sticks claims that building the custom piece, "was a dream brief for us. We were asked to design the ultimate shisha vaping device for class, style and luxury. We were told that, within reason, money was no object on the project. Once the design was approved we set about sourcing the finest diamonds, yellow crystals, glass and gold available. It took over four months to design, but this is without doubt the finest shisha stick ever produced."
The Price Tag
We're not certain who determines that "within reason" means, but we do know that at £550,000($890,000) this little baby had better be something special. Features of the final design include 246 two-carrot diamonds (each worth $2,889); a body made of sleek, authentic hand-blown Italian glass from the Venetian Island of Murano; a 24 carat gold button and clearomiser base; 46 yellow Swarovski crystals; and (the piece de resistance) a six carat oval diamond tip (valued at $73,830). It has been confirmed that this Cadillac of the e-cig world is currently the most expensive e-cigarette in existence. She even has her own name: Shisha Sticks Sofia.
Why Would you Do That?
The device was ordered as a birthday gift for said billionaire's girlfriend. Though the piece's commissioner prefers to remain anonymous, one can only imagine that it will quickly become impossible to stay out of the limelight due to the extremely recognizable one-of-a-kind device that he has unleashed upon the world.
How do I get one?
If you are interested in ordering a custom e-cigarette (though perhaps one that will make slightly less of a splash at your next garden party), contact Shisha Sticks at [email protected].