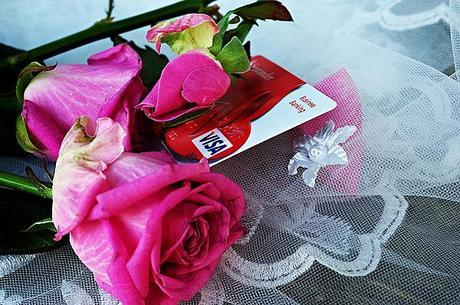 I almost had a crisis of faith in wedding blogging recently. It was one of those scary moments that hit you sometimes – I picked up a wedding magazine (that wasn't the scary bit) and it wasn't what I expected.
Wedding magazines were all about big brands and vaguely old fashioned trends, I thought. The appeal of the big wedding blogs is always from being edgy and challenging, alternative and fresh – tearing away from the boring old wedding mags.
For a moment my quick flick through the wedding magazines made me wonder if the press had finally caught up: they were quirky, full of red shoes and wellies, bunting and ideas for making weddings a bit different.
Oh.
I sat down to think about what makes wedding blogs so special, and within minutes I fell in love with the UK wedding blogs all over again. Here's what makes us so different from the traditional wedding press, and why UK wedding blogs will grow and grow but NEVER lose their appeal.
The basics: wedding blogs vs wedding magazines
Wedding magazines and money machines
Magazines make a fortune from advertising. Fact. They make enough to buy tonnes and tonnes of paper, magic it all up into magazines and distribute it all over the country in lorries to shops. The money made from advertising in a wedding magazine pays for a team of staff, offices, for their own marketing and also provides a nice little profit for them (probably).
That's a lot of money.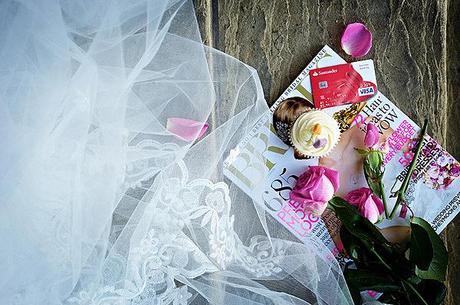 Wedding blogs and sponsorship
UK wedding blogs have been working with sponsors for a couple of years (Rock n Roll Bride led the way, I'm not sure when she recruited her first sponsor) and the likes of Love My Dress, Rock My Wedding, Whimsical Wonderland Weddings and Staggered – to name the ones at the top of my mind this morning – all have sponsors. English Wedding has launched a new sponsorship / advertising strategy too with the English Wedding Showcase. So there's money here too.
Does sponsorship spoil a wedding blog?
The difference for me is that money powers the magazines. They couldn't operate without advertising payments coming in – and their mission is to make a profit. That's why they're there. It's a neat little circle: sell advertising, make money, make magazine, sell magazine, make money, sell advertising…
Yes it's just business. No, I don't like it much. But who the hell am I to judge?…
…I'm a wedding blogger. And the difference is that money doesn't make my world go round. The UK wedding blogs are labours of love. We all started out blogging for fun, writing because we wanted to say things – not to get rich. Yes, we take sponsorship. But nobody owns us and the money isn't why we're here.
Can a blogger have sponsors and speak freely?
I'm comfortable with the concept of blog sponsorship. It's a fair exchange – sponsors want to be seen and I need to buy biscuits. Sponsorship is something I've been working very hard to get right – so long as it works for the advertisers it's a good thing.
But for a while I was wary of selling out. Would having sponsors mean I should be careful not to upset anyone? I like to challenge the wedding industry with posts like this one – but should I tone it down and be nicer to the magazines?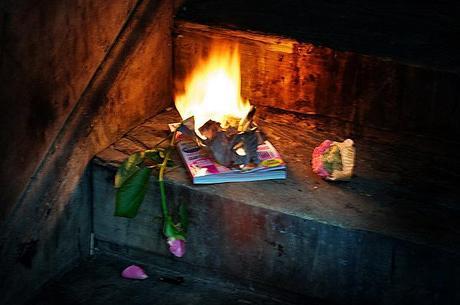 I don't think so. The wedding magazines are big business – even the smaller ones. Integrity is important to me and if I feel strongly about something I'll tell you. I won't be selling out and I can't see the other bloggers doing it either… who wants to be like the magazines!
Wedding blogs have personality
The biggest UK wedding blog – in terms of staff – is Rock My Wedding. They still only have three people working on the blog, and more importantly they're three friends who love working together.
Wedding blogs are driven by personality, not by money. We still have the freedom to write about whatever we like – and that makes blogs stand apart from the wedding magazines. This bunny engagement shoot  by Lisa Devlin on Rock n Roll Bride restored my faith instantly! Blogging is about sharing brilliant things that make you smile.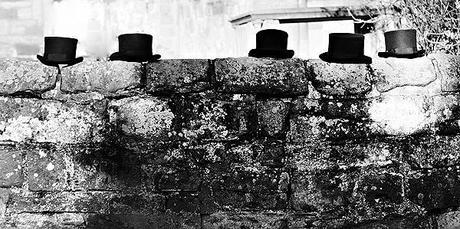 Because they're big business, the wedding magazines can never have a strong personality – but as a wedding blogger I fully intend to keep mine!
Wedding blogs are still leading the way
The wedding magazines I bought for a blog photo shoot had some good content (although a lot of it definitely wasn't to my taste) – there were red shoes and bright coloured ideas for decorating tables and venues.
These kinds of ideas have been around for a while though.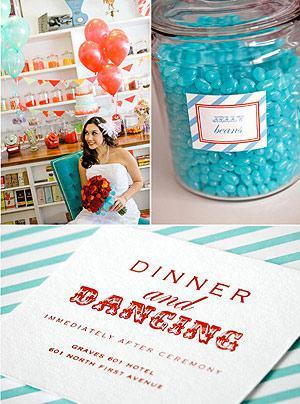 Style Me Pretty and Red Ribbon Studio March 2010
While English Wedding isn't known as the front runner in featuring out-there weddings, I'm proud of my blog content which is created to inspire brides and grooms to think and to create individual weddings that don't just follow trends.
I'm especially proud of Star Brides Sally and Salma for blogging about their own wedding plans as they happen – because every bride and groom has their own story and unique approach to their wedding.
Reassurance that blogs are still leading the way comes from everywhere – I love this bridesmaid dres feature on London Bride, and of course Rock n Roll Bride always has something new and exciting – and beautifully mad! to share.
Most importantly I think the UK wedding bloggers as a group are writing thoughtful features and sharing unique photography, shoots and images to inspire brides and grooms to set their own trends, to be unique and to create one-of-a-kind weddings. So if we're helping brides and grooms lead the way and make changes, that's even better!
Why wedding blogs are best for internet savvy brides
Wedding magazines are old fashioned in a sense because they're printed on paper and sold in shops. Their content can be as contemporary as they like, and they also have good websites and busy forums – which for the record I think are a brilliant place for brides.
It's old fashioned to publish a magazine in print
But the core business for wedding magazines is the bit you find on the shelf at Smiths. And that's a bit 20th century. Will a wedding magazine ever ditch the print side of their business and go entirely online? I'd be interested to see in ten or twenty years if they do, but I doubt it (because where would their advertising revenue go?)
Wedding blogs in comparison are all about the web. The internet is what we're all about – and every successful wedding blogger has a secret love of the geeky, techy web stuff. We know how to work the internet and to make it work for our brides and grooms.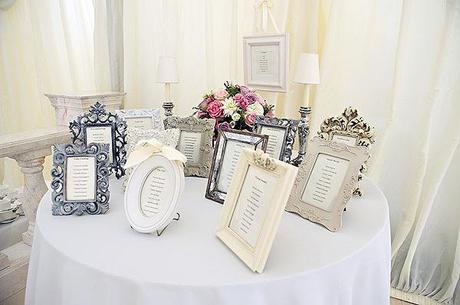 Wedding bloggers are internet experts
The wedding magazines of course have their internet departments or teams. And their websites are big. They have great advice and fab content… but ultimately they're driven by the printed magazine, and – see above – I'd say they're restricted by the nature of their business and by their sponsors.
Personality is important on the internet. The wedding magazines have brand images, they don't have personality. Reading a magazine is different to talking to a real person.
Reading a wedding blog is like talking to a real person. There's something very special about that.
Wedding bloggers' independence and personality is what makes us different and sets us aside from the traditional wedding magazines. We're addicted to the internet and can bring you wedding news as it happens.
The UK wedding blogs are winning in the blogs vs magazines debate. In a nutshell, this is why:
We have personality and freedom to express opinions
We're not driven by huge profits so blog sponsorship doesn't affect what we write
By speaking our minds we encourage brides and grooms to be different and challenge the wedding industry
We love the internet and our expertise means we can grow, influence and react to wedding news
Wedding blogging is a labour of love – and we're here for you, not for the money
Yeah. I love wedding blogs best.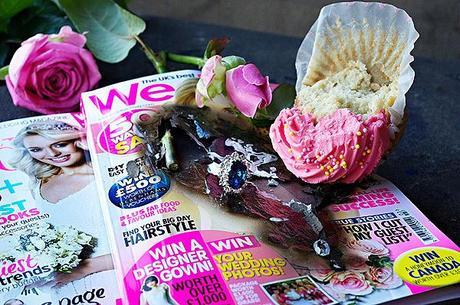 Thoughts, reactions, comments & discussion very welcome if you have a minute to type in the comments box below. I love to hear what you think, whether you agree with me or not! Comments will be open until the bunfight begins

Photo credits to Chris Hanley Photography