Sorry, Jaimie Alexander (aka, the Lady Sif from the Thor films).  WB/DC has their Wonder Woman, and she's not you.
Director Zack Snyder confirmed today what had previously only been rumored: yes, Wonder Woman will indeed appear in the Man of Steel sequel we're all just calling Batman Vs. Superman until they give us an official title [via Variety via LivingTheGeekLife]:
"Wonder Woman is arguably one of the most powerful female characters of all time and a fan favorite in the DC Universe. Not only is Gal an amazing actress, but she also has that magical quality that makes her perfect for the role. We look forward to audiences discovering Gal in the first feature film incarnation of this beloved character."
Whoa, where did this come from? 
WB/DC has been attempting to develop a Wonder Woman film or TV show for quite some time now.  If you go back far enough, a pre-Avengers Joss Whedon somewhat famously worked tirelessly on trying to get a Wonder Woman film up and running.  Whedon's proposed Wonder Woman movie actually sounds a like lot what Marvel ended up doing with Thor, with Thor in for Wonder Woman.  That ended up not happening, remembering, of course, this was pre-Avengers meaning Whedon's industry clout was minimal.  Then in the past two years there were two separate attempts to adapt Wonder Woman into a TV show.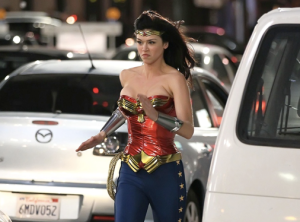 David E. Kelley's 2011 pilot with Adrianne Palicki in the lead role was turned down by NBC, largely because it was astonishingly awful according to all who suffered the misfortune of watching it.
The efforts to get a Smallville-like Wonder Woman prequel, working title Amazon, going at The CW never even made it as far as a pilot.
However, in the wake of the huge success of the female-led Hunger Games films as well as Sandra Bullock's two ginormous hits of 2013 (The Heat and Gravity) the cry for a female-led super hero movie has never been louder.  As a result, most of this has centered around Wonder Woman since she is the single most notable female super hero in comic book history.  The higher-ups at WB have been talking the talk, CEO Kevin Tsujihara telling The Hollywood Reporter 1 month ago, "We need to get Wonder Woman on the big screen or TV."  This echoes what DC Entertainment President Diane Nielsen told The Hollywood Reporter earlier this year:
"We have to get her right, we have to. She is such an icon for both genders and all ages and for people who love the original TV show and people who read the comics now. I think one of the biggest challenges at the company is getting that right on any size screen. The reasons why are probably pretty subjective: She doesn't have the single, clear, compelling story that everyone knows and recognizes. There are lots of facets to 'Wonder Woman,' and I think the key is, how do you get the right facet for that right medium? What you do in TV has to be different than what you do in features. She has been, since I started, one of the top three priorities for DC and for Warner Bros. We are still trying right now, but she's tricky."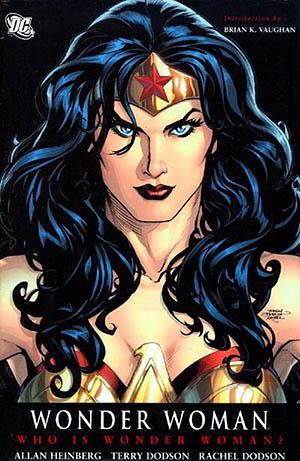 Who Is Wonder Woman? (Photo credit: Wikipedia)
As a result, over the past couple of months when multiple attractive female actresses with at least passing resemblances to how we picture Wonder Woman began reading for a mysterious role in Batman Vs. Superman the rumor mill went into overdrive that the role was indeed that of Wonder Woman.  Forbes reported that Jaimie Alexander was having multiple conversations with WB/DC about Batman Vs. Superman, who as Lady Sif in the Thor films is the closest we've gotten to the amazon warrior princess Wonder Woman on screen.  Alexander has been honest in interviews about her desire to play the part of Wonder Woman, although it was speculated her apparent honest-to-goodness high comic book IQ might have meant WB simply wanted her opinion as an informal consultant on what they should do with the character.  Then Quantum of Solace/Oblivion star Olga Kurylenko was rumored to have actually tested for the role of Wonder Woman as was Elodie Young (G.I. Joe: Retaliation).  The speculation is that Wonder Woman will appear in a cameo in Batman Vs. Superman as will The Flash and potentially other future members of the Justice League.
We still don't actually know anything definitively about Wonder Woman's role in the film, but we now know she's definitely in it played by someone named Gal Gadot.
Who the heck is Gal Gadot?
As is now the time honored tradition in situations such as these where someone we've never heard of before pops up, let's head over to IMDB and Wikipedia for the answer.  The 28-year-old Israeli model and actress is most known for having starred as Gisele in the past three Fast & Furious films (Fast & Furious, Fast Five, Fast & Furious 6).  Here's Gadot talking about the strong feminine roles in Fast & Furious:
Prior to acting, Gadot grew up in Israel, winning the Miss Israel competition at the age of 19 in 2004 (oh, btw, they apparently have a Miss Israel competition – I can't pretend I knew that before now).  Gadot leveraged that to become a Miss Universe contestant.
So, we get it – she's one of the most attractive women in the entire universe.  That's great.  But Wonder Woman is a freakin' Amazon warrior, a fierce fighter, an aspect which has been heavily emphasized in the New 52 re-boot.  Well, Gadot hasn't sliced any marauders in half – that we know of – but she did actually serve in the Israeli army for 2 years, serving as a sports trainer in the army while also still working as a professional model.  She's also a mother, having her first child with her husband in 2011.  Wonder Woman is supposed to be a bastion of femininity.  The actress they picked to play her is on objectively gorgeous mother and soldier who has held her own on-screen against the likes of Vin Diesel, Dwayne "The Rock" Johnson, and the late Paul Walker.  So, there's that.
Are We Excited?
No, but it has nothing to do with Gal Gadot.  Well, maybe a little.  It was just so much easier to imagine Jaimie Alexander as Wonder Woman: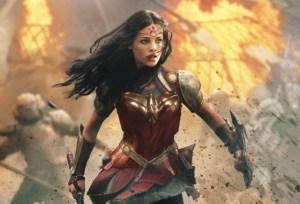 However, Marvel was probably never going to let Alexander jump ship to DC meaning she was likely never a real candidate.
The bigger concern, though, is not who is playing Wonder Woman or the amount of screen time she'll actually get but instead who is making this movie.  We are talking about Wonder Woman making her debut in a Zack Snyder movie.  To make a character like Wonder Woman work, you desperately need Marvel-like levity to make her sympathetic and relatable.  Come on, she's a freakin' warrior princess who was either molded from clay or is the bastard daughter of Zeus (depending on which continuity you follow).  She has a lasso of truth, an invisible plane, and a tiara which can be thrown like a boomerang; Thor just had the hammer.  That's not even mentioning how the heck you translate her entirely impractical and revealing costume to the screen.  This requires a nuanced approach.  That's not Snyder's forte.  You could cynically argue Wonder Woman is but another superpowered god-like figure which Snyder can use to bash bad guys through skyscarpers.  She'll probably look amazing – we just won't care about her.
Diane Nielsen is absolutely right that pulling off Wonder Woman on screen will be incredibly challenging, even if they just copy Thor since unlike Thor Wonder Woman doesn't have a Loki lying around to play off of. They are at least trying, but our faith in their ability to pull it off is remarkably low.  It's been said that the only person who could actually make a comic book movie focused on a female character work is Joss Whedon.  DC had their chance with him.  He's not available anymore.  However, surely this can be done by someone other than Whedon.
We won't find that out for a while as Wonder Woman will most likely be but a minor presence in Batman Vs. Superman.  However, Batman Vs. Superman is starting to gain an unsettling X-Men: First Class vibe.  That film was the combination of two separate projects Fox had put into development, ultimately deciding to cut their losses and combine their Magneto origin story and X-Men prequel into one movie.  The result was a rushed production that at least hit jackpot with casting and the Magneto part of the story.  Batman Vs. Superman is starting to take the shape of a Batman/Superman team-up combined with an origin story for the Justice League.  A colossal match-up like Batman and Superman does not need anything extra, although it is probably a wise move to attempt to grow their future film franchises and Justice League through Superman the way Marvel did with Iron Man.
What do you think?  Should we just delight for one moment in the fact that Wonder Woman is actually going to be in a movie?  Or are there enough things here to seriously temper enthusiasm?  And does Gadot look anything like how you pictured Wonder Woman?  Let us know in the comments.